Yoru no onnatachi (Women of the Night)
(1948)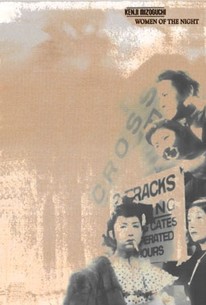 AUDIENCE SCORE
Critic Consensus: No consensus yet.
Yoru no onnatachi (Women of the Night) Photos
Movie Info
Yoru no Onnatachi (Women of the Night) was one of three Kenji Mizoguchi films entered into competition at the 1957 Venice Film Festival. Like the other two Mizoguchi efforts (Uwasa no Onna, Mushashino Ujin), the film was several years old; in this case, it was completed in 1948. Like many of the director's best films, Yoru no Onnatachi is a pro-feminist tract, set principally in a Japanese "bagnio", or legalized brothel. The story centers around two sisters who are forced into prostitution to survive. The film's climax takes place in a "kangaroo court" presided over by whores, wherein the two women are accused of being traitors to their class. ~ Hal Erickson, Rovi
Rating:
NR
Genre:
,
Directed By:
In Theaters:
On DVD:
Runtime:
Studio:
Criterion Collection
Critic Reviews for Yoru no onnatachi (Women of the Night)
All Critics (1) | Top Critics (1) | Fresh (1) | Rotten (0)
Mizoguchi sees blasted landscapes as breeding grounds for demonic energies, and the wild, shattering transformations of his protagonists-as they collapse from genteel poverty to maenadic monstrosity-have a tragic inevitability.
Audience Reviews for Yoru no onnatachi (Women of the Night)
Women Of The Night is a criminally-underrated lost Kenji Mizoguchi film. Then again, much of the director's work is criminally-underrated, as he is forgotten in the wake of other great Japanese directors like Akira Kurosawa. However, even with a director whose films are already under-appreciated, even by those standards, Women Of The Night is tremendously underrated, which is a shame, because this is one of his harshest, most emotionally-devastating films he has ever made. In the wake postwar devastation, the film focuses on three women. Two of them are sisters reunited after the war, with their parents dead, and one of them has lost her husband and child, and the third woman is a friend of the two sisters. The sisters move in together, though things immediately go south when one of the sisters (Who works as a prostitute) sleeps with the other's boss (Who the one sister thought was HER lover) and the jilted sister moves out and becomes a prostitute herself. Meanwhile, their friend runs away from home, but becomes entangled in prostitution herself after being taken to a club by an older boy and raped. When she tries to pursue the boy, she is attacked and stripped by a gang of female prostitutes who get her to join in as well since the boy stole her money shortly before the rape, and the fact that she's a runaway. Now the lives of all three women are torn apart by their lifestyle and begin to want to change, but that all depends on the society around them and the harsh life on the streets. The story is really quite interesting, especially how it explores the miserable hellhole of postwar devastation and what people do to survive in such harsh conditions. All three women are given great character development, and they viewer can't help but feel sympathy and heartbreak as their lives take tragic and depressing turns. The acting is also quite good, and all three leads do such a good job that nailing down which one performed best proves practically impossible. Each actress breathed life into their characters made every scene feel real, especially during particularly emotional scenes. Their performances were nothing short of greatness, and should be spoken of in discussions about great film performances. Emotionally-devastating, heartbreaking, and riveting, Women Of The Night is another masterwork from Kenji Mizoguchi that should be more widely known about. It's also a drama that won't leave you even after it's over because of the tremendous impact it will have on you.
Keenan Sullivan
½
Examines the life of prostitutes in postwar Japan. This film reminds me a lot of Federico Fellini's Nights of Cabiria. It shows how three women end up becoming streetwalkers despite having no intention to become one. Fusako's husband dies in the war, after she discovers this she is given a job by Kuriyama as a secretary. Fusako ends up having sexual relations with him to continue support her ill son, who eventually dies. Meanwhile, Fusako's sister Natsuko comes to live with her and is sleeping with Kuriyama as well. Mizoguchi also depicts Fusako's younger sister-in-law Kumiko, who runs away from home and ends up falling into the hands of a group of women who rob her of clothing and shoes then say she can join them or leave. Natsuko finds Fusako and learns of Kuriyama's past with her. She comes home and confronts Kuriyama, but he is soon arrested by police for smuggling opium. Fusako then finds Natsuko and brings her to a shelter, where she gives birth to a baby. In the end, Fusako sees Kumiko and tries to take her home. But she finds that Kumiko is already corrupted. She lashes out at Kumiko saying "Wallow in this mud!". They both weep and decide to go home. The prostitutes however viscously beat Fusako for trying to go straight. Other streetwalkers stop them and echo Fusako's disillusionment with that kind of lifestyle. The film is most interesting when showing scenes with the prostitutes. However, the other scenes are not very interesting and the film itself seems to be missing something big because it never really draws the attention. The ending is also quite preachy, but nonetheless the brutal relations and life of prostitutes makes this a good film. Just slightly below the great film status.
Powerful, raw film about the devastation of prostitution and the devastation of postwar Japan generally from Mizoguchi, who fuses the Italian neorealist influence with his trademark long takes and camera moves. Even Mizoguchi was critical of how excessive his rage got here--but, out-of-control or not, it's striking stuff, with a final shot that distills all the explosive energy and social commentary into one incredibly vivid, unsettling conclusion.
Davey Morrison Dillard
Yoru no onnatachi (Women of the Night) Quotes
There are no approved quotes yet for this movie.
Discussion Forum
Discuss Yoru no onnatachi (Women of the Night) on our Movie forum!