Yoru no onnatachi (Women of the Night)
(1948)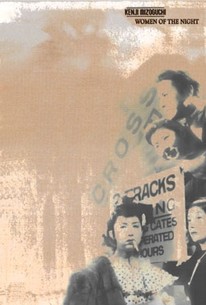 AUDIENCE SCORE
Critic Consensus: No consensus yet.
Yoru no onnatachi (Women of the Night) Photos
Movie Info
Yoru no Onnatachi (Women of the Night) was one of three Kenji Mizoguchi films entered into competition at the 1957 Venice Film Festival. Like the other two Mizoguchi efforts (Uwasa no Onna, Mushashino Ujin), the film was several years old; in this case, it was completed in 1948. Like many of the director's best films, Yoru no Onnatachi is a pro-feminist tract, set principally in a Japanese "bagnio", or legalized brothel. The story centers around two sisters who are forced into prostitution to survive. The film's climax takes place in a "kangaroo court" presided over by whores, wherein the two women are accused of being traitors to their class. ~ Hal Erickson, Rovi
Critic Reviews for Yoru no onnatachi (Women of the Night)
All Critics (1) | Top Critics (1) | Fresh (1) | Rotten (0)
Mizoguchi sees blasted landscapes as breeding grounds for demonic energies, and the wild, shattering transformations of his protagonists-as they collapse from genteel poverty to maenadic monstrosity-have a tragic inevitability.
Audience Reviews for Yoru no onnatachi (Women of the Night)
½
Examines the life of prostitutes in postwar Japan. This film reminds me a lot of Federico Fellini's Nights of Cabiria. It shows how three women end up becoming streetwalkers despite having no intention to become one. Fusako's husband dies in the war, after she discovers this she is given a job by Kuriyama as a secretary. Fusako ends up having sexual relations with him to continue support her ill son, who eventually dies. Meanwhile, Fusako's sister Natsuko comes to live with her and is sleeping with Kuriyama as well. Mizoguchi also depicts Fusako's younger sister-in-law Kumiko, who runs away from home and ends up falling into the hands of a group of women who rob her of clothing and shoes then say she can join them or leave. Natsuko finds Fusako and learns of Kuriyama's past with her. She comes home and confronts Kuriyama, but he is soon arrested by police for smuggling opium. Fusako then finds Natsuko and brings her to a shelter, where she gives birth to a baby. In the end, Fusako sees Kumiko and tries to take her home. But she finds that Kumiko is already corrupted. She lashes out at Kumiko saying "Wallow in this mud!". They both weep and decide to go home. The prostitutes however viscously beat Fusako for trying to go straight. Other streetwalkers stop them and echo Fusako's disillusionment with that kind of lifestyle. The film is most interesting when showing scenes with the prostitutes. However, the other scenes are not very interesting and the film itself seems to be missing something big because it never really draws the attention. The ending is also quite preachy, but nonetheless the brutal relations and life of prostitutes makes this a good film. Just slightly below the great film status.
"Women of the NIght" starts with Fusako(Kinuyo Tanaka) suffering a series of trials in postwar Japan in quick succession. First, she receives news of her husband dying in the war, following by her child succumbing to tuberculosis. However, things eventually look up as she gets a job working as a secretary for Kuriyama(Mistuo Nagata) and is reunited with her sister Natsuko(Sanae Takasugi) who was living in Korea and is now making a living as a dance hostess. Before long, Natsuko supplants her sister as Kuriyama's mistress, forcing Fusako out on to the street. With some jarring shifts in tone and place, "Women of the Night" is a powerfully frank and bleak view of postwar Japan where the entire social structure has been ripped away with most of the men in the armed forces either missing or dead. This just leaves the women to fend for themselves but the movie is ambiguous as to who should shoulder the blame, even taking a sanctimonious tone towards the end. That's nice if you can afford it but many of these woman have no other choice. And the last shot of Madonna and child in a bombed out church is laying it on a bit too thick. (Originally reviewed in the blog section on October 17, 2009.)
Yoru no onnatachi (Women of the Night) Quotes
There are no approved quotes yet for this movie.
Discussion Forum
Discuss Yoru no onnatachi (Women of the Night) on our Movie forum!