Yossi & Jagger
(2003)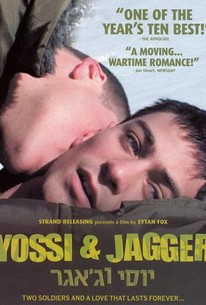 Movie Info
Yossi (Ohad Knoller) is the stoic company commander of an Israeli Defense Forces unit on the Lebanese border. Jagger (Yehuda Levi), who got his nickname thanks to his fun-loving rock star appeal, is the platoon leader. They have a secret. When they walk off in the snow together, it isn't because they're on patrol--it's because they're lovers. Jagger is more gregarious. He tells Yossi that he loves him, and longs to hear Yossi say it back to him. He makes plans for their future together, urging Yossi to leave the army with him when Jagger's mandatory service is done. Yossi can't bring himself to make any promises. "This isn't some. . .American movie," he tells Jagger. The colonel (Sharon Reginiano) arrives with two female soldiers, the irrepressible sexpot Goldie (Hani Furstenberg) and her more introspective friend Yaeli (Aya Koren of Late Marriage), who harbors a serious crush on Jagger, and is herself pursued by Jagger's nosy roommate, Ofir (Assi Cohen). As the unit's perfectionist chef, Yaniv (Erez Kahana) struggles to make a sumptuous meal for the commanding officer with meager supplies, the colonel tells Yossi that Hezbollah forces are expected to cross the border, and the already exhausted unit needs to set up an ambush that night. Yossi & Jagger, directed by Eytan Fox, was a critical and commercial hit in Israel. It was shown at the 2003 Berlin International Film Festival and had its U.S. premiere at the 2003 Tribeca Film Festival.
Critic Reviews for Yossi & Jagger
Audience Reviews for Yossi & Jagger
½
An inept romance that mistakes amateurish for naturalistic, looking like a cheap movie made for TV and with actors who are below the level of mediocre - and it works better when focusing on the daily life of the soldiers than on a corny gay love story that goes nowhere.
Carlos Magalhães
Super Reviewer
This Israeli film has got all the love and charms you need to feel good when you are down. Set in the Isreali Defense Force, you've got two soldiers that are closeted homosexuals that cannot express their love to each other, on top of this, the hardship of war made their situation even tougher. It's a cute independent drama that features adequate acting and a bitter sweet ending.
Sylvester Kuo
Super Reviewer