You Stupid Man
(2002)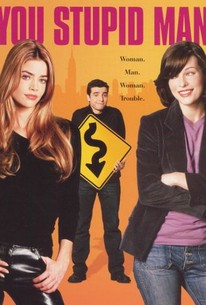 AUDIENCE SCORE
Critic Consensus: No consensus yet.
Movie Info
When his hopeful fiancee Chloe (Denise Richards) leaves him to pursue an acting career in Los Angeles, down on his luck Owen (David Krumholtz) begins to see love in the eyes of Nadine (Milla Jovovich), the woman who would have been the maid of honor at Own and Chloe's wedding. Nadine has offered Owen comfort in his abandonment, and it seems as if he finally may be recovering from crushing blow dealt to him by Chloe. Just as thing begin to look up, however, Chloe's show is cancelled and the disheartened would-be actress returns home fully intent on rekindling on reuniting with Owen. Will Owen remain with the lovely Nadine, or will his old flame prove too difficult to resist?
Critic Reviews for You Stupid Man
All Critics (2) | Fresh (0) | Rotten (2)
The title is appropriate for whoever thought this was going to be a good movie.
a nerdy David Krumholtz and a blank-slate Milla Jovovich don't exactly make for cinema's most energetic couple.

Audience Reviews for You Stupid Man
Krumholtz and Jovovich were great together in this movie. I liked the story idea, but really didn't see them having the chemistry to pull it off. I was very pleasantly surprised and loved the ending.
Heather Metzger
Its a shame this movie didn't hit it big. Definitely a hidden jewel among romance cinema. This is just one of those movies. Some of us can agree it is like a classic How Harry Met Sally. Super cute and funny with a good old 90's feel to it. The acting by Milla Jovovich was very good and believable. Some how a dorky Jewish man and a super sexy model type woman do make a very intriguing couple. Over-all a very cute movie. Milla should play more cute parts like these they suite her well. If you like chick flicks with some funny atmosphere and if you LOVE Milla definitely check this movie out.
Alice Staph
Yes... and I was stupid enough to buy this movie. I use to have such a crush on Denise Richards, but I'm slowly learning that she's a horrible actress... and it bothers me that she speaks through her teeth. You never see her lips move. Milla Jovovich is actually pretty cute and convincing in this movie and, in my mind, the only thing that makes it worth watching. Don't watch this movie unless it comes on tv and you're in the mood for a romantic comedy with a stupid guy in it. Whomever did casting and put David Krumholtz with the likes of Denise Richards and Milla Jovovich is horrible and should be fired.
Jonathan Grubbs
You Stupid Man Quotes
There are no approved quotes yet for this movie.
Discussion Forum
Discuss You Stupid Man on our Movie forum!