You Were Never Lovelier
(1942)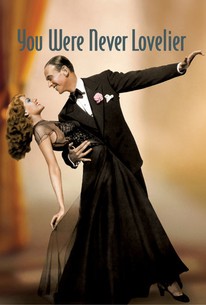 You Were Never Lovelier Videos
You Were Never Lovelier Photos
Movie Info
The second and last of the Fred Astaire-Rita Hayworth vehicles, You Were Never Lovelier takes place in Argentina (courtesy of the Columbia Pictures art-direction department). Fred plays an American dancer whose fondness for betting on horse races has left him broke. Rita is the daughter of wealthy Argentinian nightclub owner Adolphe Menjou, who has vowed that his daughters will marry in the order of their ages-and since older sister Leslie Brooks is about to walk to the altar, Rita is next in line. To encourage his daughter to seek out an eligible husband, Menjou sends Rita unsigned love notes so that she'll think she has a secret admirer. Through a series of misunderstandings that could only happen in the movies, Rita becomes convinced that Fred is the man who's been plying her with notes and gifts. Menjou hires the impoverished Astaire as a potential son-in-law. Fred bridles at the thought of being a "bought spouse", but changes his mind when he falls in love with Rita on his own.
Rating:
NR (nothing objectionable)
Genre:
, ,
Directed By:
Written By:
In Theaters:
On DVD:
Runtime:
Studio:
Columbia Pictures Corporation
Critic Reviews for You Were Never Lovelier
Audience Reviews for You Were Never Lovelier
You're as beautiful as ever...it just takes longer now. A traditional Argentinian family has three daughters that are young adults and anxious to get married; however, the father believes in his culture, which requires the daughters to marry in order oldest to youngest. The daughters are all in the love...except the oldest who has been promised to a man who has some reluctance to marry such a fine and wealthy woman. The sisters get behind the older sister hoping they can get in line to get married next if she finds true love. "Don't frighten with your intelligence." William Seiter, director of Roberta, Sons of the Desert, Borderline, Little Giant, It's a Pleasure, Champ for a Day, Hired Wife, That Night with You, and Room Service, delivers You Were Never Lovelier. The storyline for this picture was fun in a Little Women kind of way. The main male character, played by Fred Astaire, was charismatic and perfect. The cast as a whole was solid and also included Rita Hayworth, Adele Mara, Adolph Menjou, and Leslie Brooks. "We're working together again!" This was recommended to me by Fios so I decided to give it a shot. I haven't seen many Astaire movies and thought this would be a good one. There is some cheese in here, and the plot is very straightforward and predictable, but this does have a nice classic feel that makes it worth a viewing. "He will come to you on his knees." Grade: C+
Kevin Robbins
Rita - so graceful.. so beautiful.. She is not Ginger, but in this movie, she shows she is such a beautiful partner and dancer for Fred. Love this movie.
dan umi
"You Were Never Lovelier" from 1042 starring the very taletned dancer Fred Astaire and the beautiful Rita Hayworth. This musical comedy centers in South America where a wealthy businessman whom owns a hotel is looking to marry off his next in line daughter (Hayworth). This will be done by him posing as a suiter and sending lovely letters and flowers and then enters the dancer (Astaire) whom is looking to get a job at the nightclub in the hotel and then poses as the letter writer....a lovely musical score and dance numbers for a sweet film.
Mason Williams
Super Reviewer
You Were Never Lovelier Quotes
There are no approved quotes yet for this movie.
Discussion Forum
Discuss You Were Never Lovelier on our Movie forum!