You Were Never Really Here
(2018)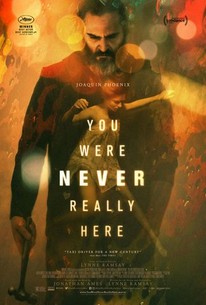 TOMATOMETER
AUDIENCE SCORE
Critic Consensus: Bracingly elevated by a typically committed lead performance from Joaquin Phoenix, You Were Never Really Here confirms writer-director Lynne Ramsay as one of modern cinema's most unique -- and uncompromising -- voices.
You Were Never Really Here Videos
You Were Never Really Here Photos
Movie Info
A traumatized veteran, unafraid of violence, tracks down missing girls for a living. When a job spins out of control, Joe's nightmares overtake him as a conspiracy is uncovered leading to what may be his death trip or his awakening.
News & Interviews for You Were Never Really Here
Critic Reviews for You Were Never Really Here
Audience Reviews for You Were Never Really Here
Okay. I liked bits of it. Other bits not so much.
Nicki Marie
Super Reviewer
Defying expectations with an atypical hitman thriller, Lynne Ramsay creates a surprising character study that benefits from an exceptional performance by Joaquin Phoenix. Full review on filmotrope. com
Carlos Magalhães
Super Reviewer
½
Normally when I feel like recommending a movie to someone, it's due to the fact that I feel it will either appeal to a specific audience or just please everyone on a board scale. Quite honestly, although I'll be praising this film as I go along, I'm not quite sure who the audience will be for this movie. You Were Never Really Here is based on the novel of the same name and while I haven't read it, I believe this film is a nice representation of it, as it's simply a great film overall. Yes, the imagery is bizarre and the performances throughout the film may seem a little too realistic that they become off-putting, but these are all things that I found to be fascinating about it. If you're up to the task of watching a movie like this, here's why I think it's terrific. You Were Never Really Here follows a man in Joe (Joaquin Phoenix) as he is both haunted by his past and trying to straighten out his current life. Tasked with a job of looking for missing girls and taking down anyone in his path, this brings up memories that he's not too fond of. Told in a linear manner while also flashing back through weird visuals or direct scenes, this is a film that asks you to be entranced by it from start to finish. If you think imagery is just imagery when it comes to a director trying to express certain emotions through the camera, rather than dialogue, then this movie definitely isn't for you. Joaquin Phoenix is magnificent as Joe and quite frankly probably the best I've seen from him in years. From his subtle facial expression when a scene with his mother is taking place, to the very notion that he truly cares about everyone in his life, no matter how evil he may seem at times, Phoenix was able to present many emotions throughout the course of this movie. Not that I related to this character, but his thoughts on just wanting to do the right thing felt very relatable for many viewers to attach themselves to. From its visuals to its performances, I was blown away by this film, but this is where I draw the line of possible issues. You Were Never Really Here is the sort of film that gives you many amazing things, but also showcases a few too many depressing sequences and the visual storytelling gives you everything you need upon first viewing, at least in my opinion. This is a must watch movie in my eyes, but I can't see myself ever needing to revisit it. I also appreciate a film that's well-shot and well-edited, which is exactly what is provided throughout this movie, so that was an added bonus that had me applauding every few minutes. In the end, You Were Never Really Here is a fantastic piece of independent cinema and the perfect example of a movie that not enough people can get into or even come across, due to the overabundance of blockbusters in theatres these days. Whether or not you have read the source material that this film is based on, I highly recommend checking out this film if you can stomach a few brutal images, some very sad representations of the real world, and a huge wake up call throughout the final act that brought me to tears. You Were Never Really Here isn't for you unless you're into auteurist filmmaking like I am at times, but it's a great story to invest yourself in regardless, which is why when considering everyone,I think I nearly loved this movie.
You Were Never Really Here Quotes
There are no approved quotes yet for this movie.