You Were Never Really Here
(2018)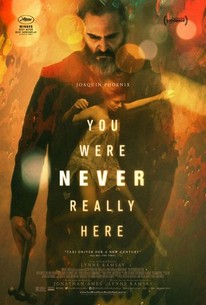 TOMATOMETER
AUDIENCE SCORE
Critic Consensus: Bracingly elevated by a typically committed lead performance from Joaquin Phoenix, You Were Never Really Here confirms writer-director Lynne Ramsay as one of modern cinema's most unique -- and uncompromising -- voices.
You Were Never Really Here Videos
You Were Never Really Here Photos
Movie Info
A traumatized veteran, unafraid of violence, tracks down missing girls for a living. When a job spins out of control, Joe's nightmares overtake him as a conspiracy is uncovered leading to what may be his death trip or his awakening.
News & Interviews for You Were Never Really Here
Critic Reviews for You Were Never Really Here
Audience Reviews for You Were Never Really Here
In an age where the highest grossing movies center on costumed vigilantes committing acts of violence and destruction outside and above the law for the sake of some utilitarian homeostasis (that, ironically, becomes more cosmically unstable each episode), it's about time a filmmaker put the vigilante under the gun to reckon with the karma they've accrued. I know, I know, we've had some deconstructionist superhero movies in the last decade, but they've always maintained the premise that despite all of the chaos and death the hero leaves in his wake, good guys are good, and bad guys are misguided if not wholly evil. Lynne Ramsay's You Were Never Really Here doesn't deconstruct this vigilantism as much as completely decimate any romantic preconceptions of it with a ball-pein hammer. Everything about Joachin Phoenix' tortured torturer "Joe" is cranked up to eleven as he wanders through a surreal nightmare, followed by his trauma, in search of retribution. There are a few very obvious cinematic influences and references that should be made clear from the trailer, the most blatantly obvious one being Scorsese's Taxi Driver. That and Refn's Only God Forgives all share with it the neon-noir aesthetic, the violent protagonist, and the moral/emotional catalyst of underage prostitutes. How Joe sets himself apart from Travis Bickle or Julian is with a psychosis wrought from witnessing the horrors of this world in the line of duty while trying to do the right thing. His PTSD from the Middle East and his time in the FBI have formed him into a person with a clear sense of right and wrong, but those experiences have perverted his sense of balance and retribution. He has to hyperventilate to stay calm, and he has to beat, maim, and kill to bring about "justice". Sure he's saving young girls from sex-traffickers, but he's getting paid to do it. Then there's that crazy little glimmer in his eye when he buys a hammer. With that sort of setup you would assume there would be lots of scenes of vindictive blood and guts. I won't say there aren't any, but this certainly isn't a film like Death Wish where one is expected to gleefully cheer on violent murder. Much like a Michael Haneke film, the violent acts are rarely presented on screen, and if they are it isn't the purpose of the film to glorify them. The dead and dying, the oppressive din of suffering voices are all more important focal points of the camera. These are the images that torment Joe, and we can more faithfully enter into his trauma via this stylistic choice. Johnny Greenwood's frenetically danceable and cacophonously eerie score solidly intensifies Joe's tenuous grasp on reality while he is lost between moments of clarity and visions of senseless death. What I think elevates the film past the best of psychological thrillers or action flicks is that You Were Never Really Here is a film that points to the best of cinema in the last few years and the world surrounding film today. There are visual echoes of Good Time, Get Out, maybe surprisingly A Ghost Story, and unsurprisingly Inherent Vice. On the other hand it is difficult to go much further into this without getting into spoilers, but you would be hard up to find a more fitting distillation of the #MeToo movement than Ekaterina Samsonov's character, a PTSD-riddled girl with an extensive history of being systemically abused by the power structures in her life. The first half of the film is "What?" The second half is "WTF?". All of it leads to the conclusion, like I'm sure many are asking in Hollywood and abroad, "Where do we go from here?" Perhaps we've all been ghosts in a mansion of horrible deeds, only now emerging from the delusion that we weren't complicit in the hatred and pain that plagued our society. The plot synopsis on Wikipedia makes it seem as though what we are watching is certain and factual. To assume that these events and connections have all occurred without question undermines the feverish thought process and perspective of Joe, and it also assumes he is a reliable narrator. I don't believe that he is. In fact, I'm not even sure he's really there (damn, I would have nailed that titular reference if not for tense and second vs. third person pronouns). Some of the more surrealistic sequences give me the impression that he is a ghost or dreaming. I don't know, and I don't want to, and it is exactly this ambiguity that makes what could be a miserable or fruitless revenge story into a riveting and thought-provoking work of art.
K Nife Churchkey
Super Reviewer
½
Nearly noir-ish, a man who saves kidnapped young girls becomes more involved than usual in his latest case. It's moody, atmospheric, and raw as we follow our lead character on his travels, which prove interesting by and large. not a bad effort.
Kevin M. Williams
Super Reviewer
IT'S HAMMER TIME - My Review of YOU WERE NEVER REALLY HERE (2 Stars) Lynne Ramsay needs to make a horror film asap...and she must collaborate again with her composer Jonny Greenwood of Radiohead fame. The two of them know exactly how to scare and unnerve viewers, how to use tremulous sounds and eerie silences to shake you to your core or fill you with dread. These visceral talents don't come along very often, and when matched with the proper genre has the possibilities of greatness. YOU WERE NEVER REALLY HERE, has great things in it, but is far from great. The pair worked so well together on Ramsay's prior feature, WE NEED TO TALK ABOUT KEVIN, that I was excited to see their latest efforts. What transpires has incredible cinematic heft, gorgeous, deeply felt cinematography by Thomas Townend (another KEVIN alum), fantastic use of sound, shocking violence juxtaposed with unexpected tenderness, all in the service of something I found to be criminally underwritten. It's rare that I'll complain about a film being too visual. I did so with last year's TWO LOVERS, which wasted its best resource, Debra Winger's indelible rasp getting the chance to talk and talk and talk. I'm doing so again with a potentially powerful film that, for me, could have used a little more talking and a little less visual oomph, despite its utter gorgeousness. Your enjoyment of this film may also be dependent on your feelings for Joaquin Phoenix as an actor. While I loved him in TO DIE FOR, WALK THE LINE, and HER, sometimes his method style of performing leans heavily on navel gazing aspects I find the opposite of entertaining. It doesn't mean he isn't skilled. He's a great actor, and his role as Joe, an Avenging Angel of sorts who makes a living saving young girls kidnapped and forced into sexual slavery, certainly has power and a deeply lived-in quality. But...except for some surprisingly sweet scenes with Judith Roberts (great actor), as his ailing mother, I grew tired of this endless mumble of a character. YOU WERE NEVER REALLY HERE feels like DEATH WISH married PUZZLE OF A DOWNFALL CHILD, which in layman's terms means a revenge fantasy with an elliptical, artistic aesthetic. Imagine TAXI DRIVER, which the film closely resembles, without much dialogue. You're left wondering, where's that "You talking to me?" scene. Fifteen year old Ekaterina Samsonov has a wonderfully sullen look as Nina, the main missing girl in the story, but she barely ever speaks. Compare that to the unforgettable scene in TAXI DRIVER, where a young Jodie Foster shares a meal with Robert DeNiro and justifies her life as a young sex worker. Foster had so much to work with in that scene, whereas Samsonov just stares blankly most of the time. YOU WERE NEVER REALLY HERE also has plenty of violence, with Phoenix wielding a hammer against the awful people he seeks to avenge. This is truly upsetting stuff. The film also builds and builds as it peels back the layers of corruption to reveal something more sick and insidious than imagined, although in this current cultural moment, I expect nothing less of powerful people than what they do here. More than anything, this film felt like an experiment in how to convey so much with so little talking. At times, the imagery more than makes up for that, especially with its underwater scenes reminiscent of TRAINSPOTTING. Greenwood and editor Joe Bini make sure their jump scares have maximum impact, and Ramsay remains a one-of-a-kind filmmaker. It's a case of great filmmaker, wrong genre. YOU WERE NEVER REALLY HERE feels underdeveloped and gets monotonous, yet Ramsay has the skills to make pure cinema. Get her a horror movie now!
Glenn Gaylord
Super Reviewer
You Were Never Really Here Quotes
There are no approved quotes yet for this movie.