Young & Restless in China
(2008)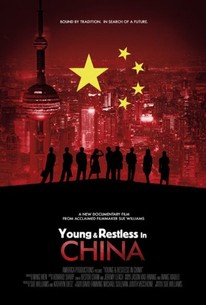 Young & Restless in China Videos
Young & Restless in China Photos
Movie Info
The Chinese economy grew at a fantastic rate in the first years of the 21st century, offering new possibilities but also presenting new challenges to its people, and filmmaker Sue Williams offers a portrait of a nation in flux as she chronicles the lives of a handful of people in their twenties and thirties in this documentary. Lu Dong and Ben Wu are two people who left China seeking greater opportunities and later came home to take advantage of the nation's booming economy, and though both have found success -- Lu founded a clothing company and Ben runs an Internet coffee shop -- they've also discovered how hard it is to keep up in China's newly fast-paced society. Xu Weimin was a student activist during the Tiananmen Square demonstrations of 1989, but he turned his back on politics to become an entrepreneur, opening a chain of hotels while looking after his ailing mother and combative family. Zhang Jingjing is another activist who has become a legal advocate for the homeless, a job that's become especially difficult with a million and a half people in Beijing left with nowhere to live thanks to construction for the 2008 Olympics. Zhang Yao is a doctor who tries to find the time and resources to care for the nearly three-quarters of the Chinese population without health insurance. And Wang Xiaolei is a hip-hop artist whose verses cast a cynical eye on the rise of capitalism in China. Young & Restless in China was aired by PBS as part of the news and public affairs series Frontline.
Rating:
NR
Genre:
,
Directed By:
Written By:
In Theaters:
On DVD:
Runtime:
Studio:
Critic Reviews for Young & Restless in China
Audience Reviews for Young & Restless in China
At first I thought this documentary was more like a promotional video that talked about how great China's economy was doing. But as it went further on, this documentary really dives into almost every aspect of China's job industry. They interviewed various people with different backgrounds and really showed you the lives of people who lived in China. Those who are involved in politics, environmental control, design skyscrapers, migrant workers, and even the life of a Chinese rapper. They showed you the life on both sides of the coin and showed you how China's job economy is doing. Life is still hard; there are people who are barely getting by and there are those that came back from being abroad after a decade. I went back to China about 3 months ago and I can relate to everything they say in this video. It really is an unbiased view on China's economy as a whole.
Sheng Liu
½
Juno - I like Ellen Page a lot, and the actors who play her parents are always fun, but I don't get why so many people liked this movie. Young and Restless in China - so interesting. eye-opening documentary. Me Myself and Irene - I'm a sucker for Jim Carrey, and he's funny enough. couldn't carry the movie though. Harold and Kumar Escape from Guantanomo Bay - almost as funny as the first one. worth it. 21 - pretty lame. always trying to blow up the ivy league mystique, and so uncovincingly. to think once upon a time i admired kevin spacey's acting. actors should never portray professors. they just dont' know what they're really like. (hint: most of them are like everybody else.) the one redeeming thing about the movie was the twist at the end.
da pain elaine
Young & Restless in China Quotes
There are no approved quotes yet for this movie.