Young Doctors in Love
(1982)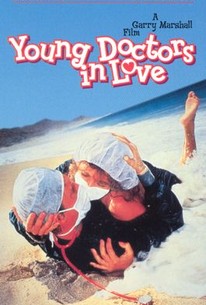 Young Doctors in Love Photos
Movie Info
In this comedy, a group of randy young interns turn City Hospital upside down with their romantic liaisons and their blunders. ~ Iotis Erlewine, Rovi
Critic Reviews for Young Doctors in Love
Audience Reviews for Young Doctors in Love
Like to turn your brain off and laugh at some goofy stuff? This could fall in that category. I saw it a long time ago and still remember a few very funny things. "You want me to stop swearing? OK. I don't give a fuck about that." Paraphrased of course from Joe Pantaliano as a cross-dressed/in-disguise Italian mobster with latent homosexual tendencies. Head surgeon Dabney Coleman to Michael McKean: I hear you're quite an asshole. I like that. Harry Dean Stanton as pathologist tasting ALL the fluids of the human body. McKean fakes him into drinking piss. Pamela Reed as head nurse: Which assistant nurse would you like, Doctor? Dabney: The one with the tits. Pamela (sighs): OK . . . Cindy. Lots of stars in this film. btw The above is entirely from memory having watched it 20+ years ago. I will re-watch it just to see what I forgot (and correct the above)
D Garce
Michael McKean and Sean Young are natural and poised and hold expressions that are interesting to the camera ... And although Sean Young only has to play a luminous mannequin, she's better than Ali MacGraw as a sentimental terminal case and more lifelike than Sean Young as an android secretary. There are a few good performers in here, but the gags are in a weird place between Police Academy and Airplane 2, and the movie is faking being madcap -- it's been cautiously cobbled together. Some of the better actors get too animated once the spotlight inexplicably shifts on them, as though the zaniness of the whole movie depends on them shining like comic stars. A young Taylor Negron plays it soft, weaves in between the dumb jokes they wrote him and comes off like a pro.
Adam Mahler
Super Reviewer
The success of "Airplane" in 1980 wasn't all good because it gave other less-talented filmmakers the idea that they too could make a similar spoof. This was one of the resulting films, and it's extremely scattershot that misses a lot more than it hits. It's also proof that the Zucker brothers and Jim Abrams style of filmmaking is a lot harder than it looks. This is the feature film debut of Garry Marshall who would go on to make blockbusters like "Pretty Woman", but his inexperience shows through here. The script is a mess, and there's barely a plot. For most of the running time, this feels like an overlong "Saturday Night Live" sketch. And the casting is another mixed bag with Michael McKean playing straight man and Sean Young looking like an actual movie star before she came down with a case of the crazies in real life. But it's Dabney Coleman who steals the show. In a film without alot to offer, I always welcomed his appearance. There are a lot of cameos from famous soap stars, but it adds little to the film if you're not a fan of the daytime dramas. There was a time when the movie almost won me over by its short-lived goofy charm, but it only sustains that for about a half hour. The next sixty minutes are lethally boring and the jokes bomb fast and furious. The movie isn't raunchy enough to work on that level, but it's not good-natured enough for kids even though a lot of it seems to be written by children. "Young Doctors in Love" pulls out all the stops but it just can't deliver.
Timothy Sanders
Young Doctors in Love Quotes
There are no approved quotes yet for this movie.
Discussion Forum
Discuss Young Doctors in Love on our Movie forum!