Young Gods (Hymypoika)
(2003)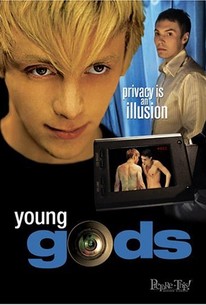 AUDIENCE SCORE
Critic Consensus: No consensus yet.
Movie Info
A handful of jaded teenagers fall into a strange game with disturbing results in this drama from Finland. Taavi (Jussi Nikkila) is an 18-year-old whose wealthy parents died when he was young. Now that he's of age and is soon to graduate from high school, Taavi has inherited his family's mansion and enough money to last him for life. Taavi enjoys recording everything around him with his digital video camera, and when the graduation party he throws for his friends turns into a drunken bacchanal, he videotapes his friends Sami (Ville Kivela), Jeri (Reino Nordin), and Markus (Jarkko Niemi) having sex with a girl who has passed out. While watching the video the next day, Taavi poses a challenge to his friends -- that they should each tape themselves having sex with a different woman, and whoever brings in the best and most unusual results will win a prize. The four young men agree to the contest, but soon playful voyeurism gives way to something uglier and more desperate as the boys go to greater lengths to top their friends in kinkiness. ~ Mark Deming, Rovi
Rating:
NR
Genre:
,
Directed By:
In Theaters:
On DVD:
Runtime:
Cast
Critic Reviews for Young Gods (Hymypoika)
All Critics (1) | Fresh (0) | Rotten (1)
Audience Reviews for Young Gods (Hymypoika)
½
An amazing contrast to the despair filled lives of the boys of "15" can be found in the wildly erotic "Young Gods". Some have said that the film is based on a Finnish urban legend, but I wouldn't be surprised if the story had been ripped from the headlines of the Helsinki Times. No one would like to be an orphan at the age of 8 or 9. If one is, it would be very nice to inherit a fabulous estate and grand fortune when you turned 18. If you respect the work of Gregg Araki, I believe you will find value in this film. I don't believe that any prudes are among the readership, so I don't have to worry about anyone being too freaked out about any particular sexual activities. I found one scene particularly shocking. I wouldn't consider participating in such an activity. I wouldn't enjoy watching anyone else participate in such an act. You will definitely know this scene when you see it. "Young Gods" begins with a very interesting birthday greeting: a group of your friends (girls as well as guys) strip completely naked outside a city mall and surround you with good "will." While the film only had one main character of questionable sexuality, (a fleshy guy with a tattooed "happy face" on his left ass cheek - if I hadn't really enjoyed this film, that alone would have been cause enough to trash this film) the main action centers on a group of young men and their sexual exploits. These are the children of the affluent - I wouldn't be surprised if it was "old money" Finns. You know the ones: they live off the interest of the money their grandfathers invested after the "Great War." Other than easy boredom, there is nothing similar to the lives of the Asian gang boys we meet in "15". Individuals in the "Young Gods" think nothing of spending $500 for a brief helicopter ride. Affluence by itself is interesting to observe - like the front pages of supermarket tabloids. These are very hot looking young men. I adore Taavi (Jussi Nikkilä) completely! He is the young man celebrating his birthday. He is constantly videotaping EVERYTHING. He tapes so much he has developed amazing talent. Taavi seems a bit aloof. Without the video camera in front of his face, he comes off as being pleasant but shy. It is good to note that he puts away the camera, without fuss, should anyone ask. It is his best friend Jere that stirs the film's plot. Jere (Reino Nordin) is the good-looking Nordic blond on the DVD cover. Nordin is also an experienced actor. His striking good looks are what first attracted my interest in "Young Gods". He reminds you of a sexy, late teenish, Macaulay Culkin. Unfortunately, Nordin is more like a modern Dorian Gray. Most of the camera angles capture him in a very sexy manner. If you happen to like this character and pay attention, you will see facial angles that are almost monstrous and give the lie to his age. Few years will have to pass before Nordin will require the services of a good plastic surgeon and dentist if he wants to maintain much sex appeal. Jukka-Pekka Siili, the director, provides a film that has more working for it than good-looking guys. We are in an age where videotape changes lives. Can we even place a value on the amount of money spent buying "homemade" porn? Will municipal cameras placed to protect, to curb speeding, and prevent crime herald a new age where behavior actually improves? Because of satellite technology, shouldn't everyone assume that someone somewhere is filming? Siili makes sociological points which should not be overlooked. When Taavi's friends are arrested for public nudity, an attractive, blond, female police officer plans on charging and fining all of them. Jere, who considers himself better skilled than Prince Charming, helps convince the officer into letting them all go. While this film is subtitled and not dubbed, pay particular note to the depth and pitch of Jere's voice. It is really on the scary side. Siili doesn't ignore the technical aspects of the film - black and white scenes turn into color into white noise screen into abrupt movement, odd angles, etc. All are a strategically important aspect of the film's success. Much of this can be noticed when Taavi invites his friends to his newly acquired estate for a wild party. Taavi does have one reasonably adjusted friend, Markus (Jarkko Niemi) who can beat Jere in most physical challenges. Don't forget sexually ambiguous or awkward Sami. (Ville Kivelä). The style and feel of "Young Gods" should pull you in easily. The party is wild! The guests sleep around. Taavi gets it all on tape. The next morning Taavi is caught watching the tape by his friends. Jere gets a great idea to have the guys compete in filmed sex competition. A prize will be awarded to the one judged best. Each will videotape their sexual adventure or have Taavi film it. Taavi won't participate in filming himself having a sexual escapade so makes himself a competition judge. In fact, Taavi doesn't seem to exhibit very much interest in the opposite sex unless he is filming something. The contest begins innocently enough until the girls find out they have been photographed without permission. I can't help but wonder if Director Siili hasn't been influenced by Steven Soderbergh's "Sex, Lies and Videotape", a film which came out 14 years earlier. It was the first American Independent Film that made a tremendous profit. It is Soderbergh's first major film. He was nominated for an Academy Award in writing in 1990. "Sex, Lies" didn't have all the nudity "Young Gods" do, but it is a sensational, heavy duty, plot driven film. Instead of Jere's Reino Nordin, "Sex, Lies" has a sizzling hot James Spader as Graham. It also stars Peter Gallagher playing a smug adulterer beyond redemption. If you haven't seen "Sex, Lies and Videotape" check it out. There are girls in the film. (This is a hetero film.) They include Jere's girlfriend, Reeta (Jenni Banerjee), Markus' girlfriend, Mira (Mervi Takatalo), and Jere's sister, Jenni (Evi Suppala). Markus also gets involved with policewoman, Helena Paakkonen (Laura Malmivaara). Everyone kids him about her at the party. The women are used basically as necessary accessories. The filming of each boy's sexual episode is a major dramatic event. What starts as a simple game quickly degenerates into dangerous compulsions, sexual obsession and, at times, depravity. When their girlfriends refuse to be taped, the boys turn to prostitutes and classified ads to find sources for their film. Soon, fun and games turn to the darker currents of coercion and abuse. The contest progresses from humiliation, to date rape. Events unfold that lead to cruel revelations of awareness for Taavi. Secrets about his parents will be found on video. The camera becomes an actual source of evil. Siili could become an international spokesman for the evils of invasion of privacy. He provides an emotional spectrum that is bold and daring, entertaining, frightening, and cruel all at once. One vividly sees horror in privacy invasion. The film is a significant statement that needs to be heard. If contemporary young people are on some scale between the boys of "15" and the "Young Gods", we are all in for a future filled with very bumpy rides.
Larry Jenkins
½
Young Gods (2004) - "Dead I am the sky, watching Angels cry." - Jere (1) Too much freedom (high-schooler Taavi moves into his parent's palatial home ten years after their death), (2) too much money (Taavi's inheritance), and (3) raging hormones (teenage boys) results in Taavi and his three friends making a pact to film each other's sexual exploits and compete for the coolest tape. In response, they act on fantasies that were best left to the imagination (as fantasies always are!). In the process, they end up using up their friends, then using up themselves. Running in the background is the unfolding story behind Taavi's parent's demise and the home influence on the other boys. At first appearing to be prurient, this fascinating film is actually multi-layered. Finnish director Jukka - Pekka Siili's film is unapologetically graphic, perhaps even disturbing due to the immature behavior of the portrayed characters, and it's possible to miss the screenplay's subtleties from covering your eyes. The film has been rapped for being unrealistic, but I'm not so sure about that. It's a strange brew - an unlikely set of initial conditions - but Jukka Vieno's haunting screenplay had a feel of reality to me. True, it didn't feel exactly real - more like trying to see something in the dark by looking slightly away.
Rich Brown
Discussion Forum
Discuss Young Gods (Hymypoika) on our Movie forum!
News & Features