The Young Lions
(1958)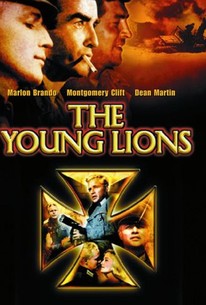 Movie Info
Though several concessions to the censors and the box-office were made in adapting Irwin Shaw's bestseller The Young Lions to the screen, the end result is generally effective and satisfying. Set during World War 2, the film concentrates on three individuals, one German, two American. Marlon Brando plays an idealistic German whose early fascination with Nazism leads to doubt and disillusionment. American entertainer Dean Martin, on the verge of the Big Time, does his best to dodge the draft but ends up in uniform all the same. And American Jew Montgomery Clift, so sensitive that he's practically breakable, must come to grips with anti-Semitism, not only from the Germans but also from his fellow soldiers. Romance enters the picture in the form of Hope Lange as Clift's gentile girlfrind, Barbara Rush as the socialite who shames Martin into joining up, and May Britt as Brando's vis-a-vis. Screenwriter Edward Anhalt was obliged to shoehorn in a boot-camp sequence indicating that the Brass disapproved of the bigoted behavior of Clift's topkick Lee van Cleef (as if racism was a mere aberration during the 1940s), and to "slightly" alter the ending of the book, in which the embittered but still patriotic Brando character, shouting "Welcome to Germany!," machine-guns the Martin and Clift characters (in the film, it is Brando who bites the dust, symbolically dying for Hitler's sins). Maximillian Schell offers a starmaking turn as Brando's cynical comrade, while an uncredited John Banner, "Sergeant Schultz" on Hogan's Heroes, shows up as a pompous burgomeister who feigns ignorance of the hellish concentration camp in his community.
Critic Reviews for The Young Lions
Audience Reviews for The Young Lions
Ah, yes, an epic about the rise of popular alternative/indie rock band Young the Lion. That was a stretch, but, in all seriousness, this does sound like a cool rock band name... which makes the Young the Giant joke sound like even more of a stretch, because indie rock isn't exactly White Lion cool. I joke, but the only song I can think of titled "Young Lions" is by some Constantines, a "Canadian" indie rock band, so this title must not be that cool, as reflected by the fact that it was ostensibly the peak of coolness in the 1950s. I guess that means my jokingly associating this film with a rock band in the first place is misguided no matter what, because this film even predates the 1960s jazz band which was named The Young Lions, another band that only I know of. Well, the fact of the matter is that I'm old, like this film, which is pretty unsurprisingly old, seeing as how it came out back when Marlon Brando, Montgomery Clift and Dean Martin could be considered "young" lions. This film is so old that it's one of Maximilian Schell's first projects, which should tell you that he's always been into giving himself a bad wrap by playing Nazis, and in dramas that were edgy enough to really show how big of jerks the Nazis were, no less. Well, this film is edgy for 1958, being really good, as surely as "Judgment at Nuremberg" was good, despite making Max Schell come off as a jerk (Well, here, he's working with Marlon Brando, who is playing a Nazi sympathizer, so just how detestable can Schell be by comparison?), but not entirely capable of transcending dramatic shortcomings of the time. Now, the film seems to be intentionally structured as a melodrama, thus, the histrionics are generally easy to embrace in the context of this film, but only up to a point, before certain melodramatic elements are carried a touch too far away to compel all that easily, or at least seem to be, when backed by a certain directorial sentimentality. Edward Dmytryk's direction has plenty of kick to it, but it's a script that still gets dramatically flimsy which is most realized in its handling of melodramatics, whereas Dmytryk's storytelling occasionally adopts an ambition to bite so immense that it's sometimes somewhat overbearing. Of course, it's not as though the film is only overblown with its dramatics, because, at 167 minutes, this film's runtime is perhaps too sprawling, dedicating about as much time to near-aimlessly meandering material and filler as it does to more realized and fleshed out material, which, quite frankly, gets to be a little limited. Well, at least immediate development is a little sloppy, taking its sweet time to get you used to the characters and their stories, then proceeding to do a plenty solid job of drawing an extensive narrative that still tends to lose its tightness, in addition to its grip on gradual exposition, resulting in one of the film's more aggravating aspects: structural unevenness. On top of juggling three separate storylines, this film divides each plot into several segments, and such a structure is seriously ambitious, which would be fine if it wasn't for the questionable pacing and flimsiness in expository tightness, thus, when shifts in focus on a particular character or on a particular chapter in each character's story, it's extremely difficult to not get thrown off, to where momentum takes yet another blow from a certain aimlessness. There's a taste in this film that never abates, and is honestly so great that the final product could have gone well beyond a merely rewarding state, yet all of the overambitious bloating to dramatics and structure go quite a distance in holding the film back. Of course, it's hard to hold this drama that far back, because for all the ambition, there is so much inspiration that the film is never less than compelling, even though it might stand to be a little more consistent with, say, its style. By, if you will, criticizing the film's visual style as inconsistent, I mean that, whether it be because of technical limitations of the time or whatever, Joe Macdonald's cinematography fails to impress as often as it could have, but when the visual style does come to highlights by way of an almost noirish exploitation of a black-and-white palette, it helps pretty handsomely in supplementing a sense of weight to this perhaps gritty drama. For this tasteful placement of style, Edward Dmytryk deserves credit, for although his direction is surprisingly not as edgy as other forms of storytelling in this drama which was ahead of its time, it too has many an area of inspiration to storytelling that is rarely thoughtful to the point of blandness, and recurrently realized enough to immerse you in the dramatic heart of a story concept of great conceptual value. The film's story is perhaps a little too dramatically and structurally bloated to handle all that comfortably, but, quite frankly, just about every aspect of this both epic and intimate war is compelling, even on paper, with a solid deal of potential that one might figure 1950s sensibilities would fumble. Well, limitations of the time are there, but they are limited, and that especially goes for Edward Anhalt's strong script, whose dialogue is sharp, and whose set pieces are tight enough to sustain liveliness, despite excesses, while characterization, despite its also being a little uneven, carries enough depth to dissect the leads of this film as worthy dramatic figures by their own right, as well as thought-provoking supplements to considerable thematic value. Unafraid to take a realist approach to themes on problematic politics, patriotism, the horrors of war, and moral instability all behind a melodramatic narrative that rarely gets too carried away, Anhalt's storytelling handles remarkable subject matter with remarkable grace, and were there a little more consistency to Anhalt's efforts, as well as a lot more consistency to Dmytryk's, the film might very well have stood out. What might have secured such a position would be the performances in the film, which boasts a solid cast of talents who endear across the board, from which the leads stand out, with Montgomery Clift being nuanced in his portrayal of a young man who must face ridicule from the enemy and even his own peers as a Jew, as well as overwhelming dangers as a soldier, while Dean Martin convinces as a cool man of respect who isn't prepared to fight and perhaps die for his country, and Marlon Brando truly steals the show, delivering on a German accent that is about as impeccable as a powerfully subtle emotional range that firmly showcases Brando's groundbreaking dramatic acting sensibilities in top form. The acting is often so good that they have to be seen in order to be believed, as surely as the highlights are so bright that they're worth waiting for, reflecting an inspiration that was uncommon at the time and would have made a still-powerful film, were it not for certain shortcomings that still don't stand much of a chance at keeping the final product to rewarding through and through. When the lions finally sleeps tonight (The Vietnam War was just starting up in the real world at this time, so, no, the lion is not sleeping in the mighty jungle), overly melodramatic moments reflect an ambition which bloats things almost as disconcertingly as the expository unevenness, excessive structuring, and serious focal unevenness which ultimately secure the final product quite a ways shy of a potential that is still sound enough for sometimes handsome visual style, often effective direction, frequently effective writing, and consistently strong performances by Montgomery Clift, Dean Martin and the particularly powerful Marlon Brando to prove to be enough to make Edward Dmytryk's "The Young Lions" a then-edgy and still-thoroughly rewarding epic of a war drama. 3/5 - Good
Cameron Johnson
Super Reviewer
Long, but entertaining war drama with excellent performances across the board. Brando keeps the quirks and fussiness to a minimum and his work benefits from it.
Directed by Edward Dmytryk, based upon the 1949 novel of the same name by Irwin Shaw, and starring Marlon Brando, Montgomery Clift, and Dean Martin. The Young Lions is about the destiny of three young soldiers involved in WWII. The German officer, Lt. Christian Diestl (Marlon Brando), approves less and less of the war, while the American-Jewish GI, Noah Ackerman (Montgomery Clift), tries to survive the very bigoted military and Michael Whiteacre (Dean Martin), who starts out as a coward who tries to avoid the war, becomes more and more blood-thirsty as the war progresses. Christian is caught in the middle of this war because he fancies two women who are American and French. He does his duty in the German Army but realizes at the end that the war, and just about everything else except his French girlfriend, is lost. Ackerman is befriended by a fellow draftee, the reluctant soldier Michael Whiteacre (Dean Martin), and falls in love with a New England woman named Hope (Hope Lange) whose father is anti-Jewish.Filmed in majestic black & white, this movie is a festival of great and genious performances by Brando and Clift.Classic.
Andre Tavares Simoni
Super Reviewer
The Young Lions Quotes
| | |
| --- | --- |
| Physician: | For a man of your age and in your profession, you're in excellent health. How do you handle it? (said to Dean Martin) |
| Physician: | For a man of your age and in your profession, you're in excellent health. How do you handle it? [said to Dean Martin] |
| Michael Whiteacre: | (answer) Clean liquor. |
| Michael Whiteacre: | [answer] Clean liquor. |