The Young Poisoner's Handbook
(1995)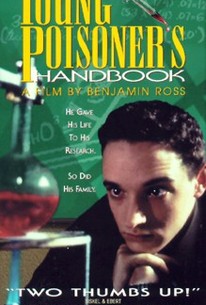 The Young Poisoner's Handbook Videos
The Young Poisoner's Handbook Photos
Movie Info
This pitch black British comedy presents an examination of young British fellow who decided to become a professional poisoner in the early 1960's while simultaneously taking a satiric poke at British society and medicine. The film is very loosely based on a true story. Graham is a fourteen-year old genius in chemistry who must live with his appalling family consisting of his dad, wicked step-mother, and sister. Graham begins his career by slowly poisoning his step-mum with tainted sweets and altered medicine. After he offs his uncle in a similar manner, Graham is imprisoned where Dr. Zeigler, who specializes in the treatment of psychopath's, works with him. The doctor is impressed at Graham's genius and believes he can be cured. Seven years later, the supposedly cured Graham is released on parole where he immediately begins where he left off.
Rating:
R
Genre:
,
Directed By:
Written By:
In Theaters:
On DVD:
Runtime:
Studio:
Cabin Fever Entertainment
News & Interviews for The Young Poisoner's Handbook
Critic Reviews for The Young Poisoner's Handbook
Audience Reviews for The Young Poisoner's Handbook
½
It doesn't delve into its subjects psyche enough for my taste, but there is a interesting bluntness to its narrative. A Sociopathic Megalomaniac will continue to be a Sociopathic Megalomaniac, regardless of how much dream analysis they undergo.
Alec Barniskis
Super Reviewer
½
"He gave his life to his research, so did his family." [Tagline] The biographical sketch of the protagonist is indeed extraordinary, but the way the events are portrayed herein hampers its effect. Despite fictionalizing the accounts, the movie fails to maintain enough interest. Wish the makers were dedicated enough!!!
familiar stranger
Super Reviewer
½
I do like this movie. I couldn't remember the title, but I have remembered scenes from watching it several years ago. On this second time around, I find that I like the film's subtle visual stylization and rational psychopathology. The movie take the first person perspective of a detached, meticulous, and compulsive poisoner. Awkward and unsociable, the main character obsessively studies and experiments in chemistry. While there is a sympathetic edge to the protagonist, his methodological murders by way of slow and painful poisoning keeps the viewer as detached from him as he is from everyone else. At the moment that the main character determines to destroy an offending family member or friend, rage is only a flicker in his wide, child-like eyes. Even without malicious intent, his callousness causes suffering, and just as his eyes barely betray his anger, they barely betray his sorrow and regret. The Young Poisoner's Handbook is a fascinating portrait of someone fixated on the power to create beauty or death. While the protagonist possesses a sense of narcissistic superiority, he also find himself bewildered by the social world and his place within it. In the end, the main character poses the question of whether he could have done differently with his life, or if he would have always been compelled to follow his destructive nature. In this question I think he finds some small piece of redemption, a modicum of meaning crystallized out of his inexplicable crimes. Note: While the movie is loosely based on a true story, I find the film much more meaningful as a work of art independent of its infamous inspiration.
S. Portuguez Mugler
The Young Poisoner's Handbook Quotes
There are no approved quotes yet for this movie.