You're a Good Man, Charlie Brown
(1998)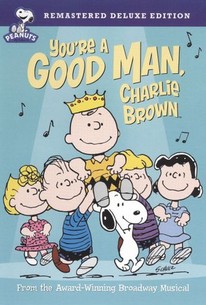 AUDIENCE SCORE
Critic Consensus: No consensus yet.
You're a Good Man, Charlie Brown Videos
You're a Good Man, Charlie Brown Photos
Movie Info
The Broadway musical based on Charles Schulz's comic strip Peanuts is animated in You're A Good Man, Charlie Brown. Though the musical contains some fine songs, most of them don't translate well to this animated form, and it is somewhat disconcerting to actually hear Snoopy sing.
Rating:
PG
Genre:
, ,
Directed By:
In Theaters:
On DVD:
Runtime:
Studio:
Audience Reviews for You're a Good Man, Charlie Brown
I didn't think I had ever seen this, but as I started watching it, it all came back to me in great detail. Apparently I did watch it as a child, but it's been years. But regardless of the fact that I did actually remember it, I still greatly enjoyed it. While it's true it's not exactly "classic" Peanuts, the music is adorable and it's a lot of fun to watch.
Amanda Hendsbee
Bradley Wright
Super Reviewer
½
But There's More to Life Than "Good" To be perfectly honest, I can't remember if I've seen this live or not. This, along with [i]Snoopy the Musical[/i], was originally live action, you see. In fact, the role of Charlie Brown in the off-Broadway production of this was originated by one Gary Burghoff, better known (though he really wishes people would remember something else about him) as Walter "Radar" O'Reilly. In fact, it is traditionally staged with adults in the various roles, including Snoopy. However, one summer, I saw either this or [i]Snoopy the Musical[/i] in the Little Theatre at John Muir High School in Pasadena, California. I remember very little about it except that it was decently staged, all things considered, and Lafayette Gooler was in it. Probably as Snoopy; that's the sort of role which would have appealed to Lafayette. The two shows have long since blended together in my head more than I'm happy about myself. This is really a series of vignettes, as if it were various weeks' worth of strips in a go. There are songs, too. The focus of this one is primarily Charlie Brown (Brad Kesten, Kevin Brando singing voice), though also in the story are Sally Brown (Tiffany Reinbolt), Linus (David Wagner) and Lucy Van Pelt (Jessica Lee Smith), Schroeder (Jeremy Scott Reinbolt), and Snoopy (Bill Melendez, Robert Towers singing and speaking voice). We see some of Charlie Brown's difficulties in interacting with the world. A baseball game. Lucy hitting on Schroeder. (Who has only one name so far as I know!) Attempting to rehearse a song despite the fact that they are all bickering through it. Snoopy's enthusiasm about suppertime. And so forth. A book report on "Peter Rabbit" . . . or is it "Robin Hood"? There isn't a lot of characterization or plot, really, but there doesn't need to be. These are characters we've all known for our entire lives, most of us. There isn't anything which could be developed over the course of this, and it's abridged a bit from the stage show, which would be a surprise to us. That's really not the point of the piece anyway. Graham suggests that the good people at Politifact might make "Little Known Facts" their theme song. Lucy tells Linus that she considers it her responsibility, as the older sister, to tell Linus things about how the world works. And of course, she is wrong. Ludicrously so, to the point that Charlie Brown is kind of following her around in the hopes of getting a word in edgewise to tell her so. But one of the things we know about Lucy is that she does not care even a little about what Charlie Brown thinks. She is also never uncertain about anything. If she says the snow comes up like the flowers, instead of falling down like the rain, that's by-Gods the way things are. This isn't exactly complicated characterization, but it rings true. There are plenty of people out there like that--and plenty more who had older siblings who were like that. You will notice that I said that Snoopy sings and talks. To be clear, all of his lines are inside his head, as they are in the strips. Snoopy does not talk to the kids. They talk to him, but heck, I talk to my cat, and I don't expect him to answer. It's true that it's quite clear that Snoopy understands a heck of a lot more than D does, but it's also true that Charles Schulz was very clear that Snoopy was not a talking animal. He got less and less real as time passed--he was a published author, which is presumably how he paid for the Van Gogh--but he was still basically a dog. And in fact, his one song is a rapturous ode to dog food. For all his human traits, it's still never suggested that he should eat regular people meals. Snoopy is possibly the most popular Funny Animal of modern times, but I'm not at all sure that most people have really learned the lesson of what made him so popular. Which is not to say that I'm not also fond of various animals who do talk to humans in their universes; I love Opus and [i]Pearls Before Swine[/i]. It is true that [i]Peanuts[/i] tends to be reminiscent of an earlier time, and when "Sparky" Schulz tried to be hip, he tended to fall down on the job. It is also true that I wish [i]Peanuts[/i] would get off the comic page and make room for a strip that is actually still in production. If you want old strips, the entire series is available for purchase. However, one of the nice things about that older time is the concept of true family entertainment. Lucy sings what is probably my favourite song from the show, "Schroeder," where she speculates about what it would be like to be married to Schroeder. What most little kids probably won't get is that it is to the tune of the Moonlight Sonata, making the line "Beethoven's nice, too" even funnier. You can have adult humour--"My Aunt Marion's right; never discuss marriage with a musician"--without it being dirty. You know and I know that Aunt Marion probably knows that there are all kinds of relationships you can have with a musician that are like marriage but not, but Lucy doesn't have to know. She certainly doesn't have to tell us.
Edith Nelson
You're a Good Man, Charlie Brown Quotes
There are no approved quotes yet for this movie.
Discussion Forum
Discuss You're a Good Man, Charlie Brown on our Movie forum!