You're a Good Sport, Charlie Brown
(1975)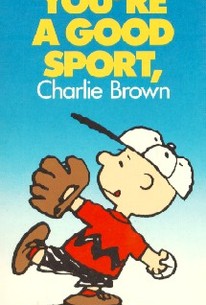 AUDIENCE SCORE
Critic Consensus: No consensus yet.
You're a Good Sport, Charlie Brown Videos
You're a Good Sport, Charlie Brown Photos
Movie Info
In You're A Good Sport, Charlie Brown, the Peanuts gang plays a variety of sports, including motocross racing.
Critic Reviews for You're a Good Sport, Charlie Brown
All Critics (1) | Fresh (1) | Rotten (0) | DVD (1)
It will never be remembered or revered as much as It's the Great Pumpkin, Charlie Brown or Christmastime, Charlie Brown, but it's definitely just as good.

Audience Reviews for You're a Good Sport, Charlie Brown
½
A fun television special
Bradley Wright
Super Reviewer
Somehow I missed this one as a kid. Cute, and I always love Peanuts... but was it really necessary to have Snoopy read a Playdog magazine? I knew what Playboy was at the Peanuts appropriate age, despite not having it in our home, and Peanuts is supposed to be innoccent in every aspect.
Liz Klingler
Warner Brothers has released yet another pair of fun-filled adventures from America's most loveable loser, Charlie Brown. This time, Charlie takes off on an off-road motocross race, and a track and field competition at his school. Amazingly enough, Charlie actually comes out the victor in both episodes, but only for a short time. And longtime Peanuts fans get to meet one of Snoopy's alter-egos in The Masked Marvel in both adventures. The newly remastered release of You're a Good Sport, Charlie Brown is not the most standout release from the Peanuts vault. But it is still a fun family movie. Yes, it's a short movie. And the included bonus adventure, "You're The Greatest, Charlie Brown" is roughly the same length as the main feature. That makes for roughly an hour of enjoyment. But animation as this style is next to impossible to find anymore, what with the surplus of CG-based animated cartoons and movies currently flooding the world, today. The animation is not the only factor that makes this re-issue worth the time and money. In a time when even many current "G"-rated movies have started walking the line of decency for young audiences, the Peanuts gang has always been, and always will be good, wholesome family entertainment. There is no foul language to speak of, even in this feature. And there is no violence either. The worst of the violence comes in the form of poor Charlie Brown falling on his back yet again when he tries to kick the football from Lucy yet again. That determination is something that is discussed in the bonus featurette included in the new re-issue of this special. The bonus featurette delves into the past of Craig Schulz--Charles Schulz's son--and his interest in motorcross. It is interesting to note that at the time of this special's original creation, motorcross had not yet been invented. So it was, in its own way, a very original story, making for even more reason to watch. Another thought provoking item discussed in the bonus featurette is directly linked to Lucy constantly pulling away the footabll before Charlie Brown can kick it. That, and his determination despite what happens at the end of the special, is a statement that Schulaz wanted to make to his audiences. This is pointed out in the discussions of the special. Charlie Brown, and the Peanuts gang have always presented family friendly entertainment with original stories, and in some cases, positive messages, such as in this special. As minor as these factors may be, they are what make the Peanuts movies--this special included--among the best entertainment of any generation.
Philip S
You're a Good Sport, Charlie Brown Quotes
There are no approved quotes yet for this movie.
Discussion Forum
Discuss You're a Good Sport, Charlie Brown on our Movie forum!