You're Next
(2013)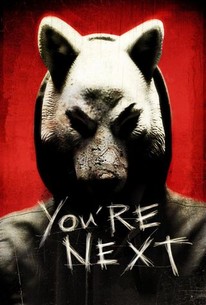 TOMATOMETER
AUDIENCE SCORE
Critic Consensus: You're Next's energetic and effective mix of brutal gore and pitch black humor will please horror buffs and beyond.
Movie Info
One of the smartest and most terrifying films in years, YOU'RE NEXT reinvents the genre by putting a fresh twist on home-invasion horror. When a gang of masked, ax-wielding murderers descend upon the Davison family reunion, the hapless victims seem trapped...until an unlikely guest of the family proves to be the most talented killer of all. (c) Lionsgate
Rating:
R (for strong bloody violence, language and some sexuality/nudity)
Genre:
, ,
Directed By:
Written By:
In Theaters:
On DVD:
Runtime:
Studio:
News & Interviews for You're Next
Critic Reviews for You're Next
Audience Reviews for You're Next
Ineffectual, contrived, and badly staged and acted, "You're Next" is another in a long list of boring home invasion films that have emerged in recent years. The first twenty minutes of the film tries to set up the characters, but does a terrible job of it, and half the cast's characteristics are undermined by the horror genre setup. Many of the characters are just bodies to be murdered by the masked killers, the only gimmick the film really has. The acting in this is also horrible, especially by AJ Bowen who looks like he's in a student film. Sharni Vinson is the only one who looks like she's actually trying, and she's the only character who does anything throughout the film. Everyone else stands around mindlessly, complaining, when they should be trying to out maneuver the killers. The plot is also haphazard, as the background information is slight, and the motivation is clichéd. Most of the deaths aren't all that creative (including two identical deaths in a row) and the gore is needlessly unrealistic. There's also really strange glimpses of nudity, for no other reason than most horror films feature it. I found this to be a slightly frustrating, uneven, logic hating kind of film, that's not worth your time.
Spencer S.
Super Reviewer
There has been a notable rise in home invasion thrillers in recent years but I am doubtful we've hit the crest just yet (this may also be hope speaking since I co-wrote one). Perhaps in an age of real-life anxiety on the news, the invasion of our personal sanctuary strikes an even more horrific chord. Whether you argue the upswing began with Panic Room, or Funny Games, or even the old Audrey Hepburn feature Wait Until Dark, the message is universal: nobody likes having their stuff messed with. This year we've already had The Purge make a splash at the box-office, and I'm sure Lionsgate is hopeful that their indie horror flick, You're Next, which has been reaping great buzz along the festival circuit for years now, will make a similar splash. For me, You're Next checked every box I would want in an effective horror film: good thrills, good humor, and a good ending. That adds up to one hell of a good time at the movies. Crispian (AJ Bowen) is traveling all the way upstate for a family reunion at his parent's palatial mansion in the woods. He's also going to introduce his new girlfriend, Erin (Charni Vinson), an Australian graduate student that used to work as his teaching assistant at his college. Crispian's rich family includes his excitable younger sister, his obnoxious older brother, his youngest detached brother, everyone's boyfriend and girlfriend, and mom and dad. In between a lively family discussion/argument at the dinner table, arrows start flying through their window. Three mean wearing ominous animals masks are stalking outside, armed, and with every intent to kill everyone inside. The masked killers leave ominous messages painted in blood, noting, "You're next" (I know they're senseless murderers, but points for using the correct form of "you're"). Erin snaps into survival mode and assembles a system of defenses but there are more threats than anyone imagined. To take nothing away from the artistic merits of You're Next, the biggest selling point, and its greatest attribute, is that it knows how to properly work over an audience. While nowhere near the genre deconstruction that was last year's Cabin in the Woods, nor as clever, here is a movie that knows it's a horror movie, knows you've seen these movies before, and knows what you're looking for as an audience member. And once the killing starts, the movie also gains a delightfully macabre sense of humor, an impish darkness that will leave you chuckling. I heartily recommend seeing this movie in a packed theater because the collective response will add to your enjoyment, or at least it did mine. Never have I experienced a movie where the audience cheered the plugging in of an ordinary kitchen appliance with such reckless enthusiasm. Thanks to director Adam Wingard and screenwriter Simon Barrett, the movie packs great payoffs in its second half, as our prototypical Final Girl outflanks her attackers. There are enough twists and turns to keep things interesting and the pacing swift. Once those arrows pop, this thing just flies by, moving at a speed that keeps you satiated with scares, thrills, and humor. In essence, You're Next knows how to have fun with an audience, and for whatever reason, with the glut of dank home invasion horror thrillers, this is a surprise. With all the family trauma and killing, watching their loved ones cruelly slip away in horrific fashion, it's worth praise that Wingard and Barrett find a happy tonal middle-ground that doesn't blunt the horror or the comedy. The laughs don't feel out of place with the screams. They make this work. And there are some really sick laughs to be had too. My only familiarity with Wingard is from his involvement in the horror anthology series V/H/S and The ABCs of Death. It's also somewhat entertaining to note that all three movies, both V/H/S and its sequel, have been released before You're Next, a film that was completed two years prior. His anthology segments didn't point to the same level of promise on full display with You're Next. Wingard does a great job of orienting his audience to the geography of the play area, so to speak, while juggling different simultaneous threats and maintain a sense of clarity. He knows when to hold back, and he knows when the audience needs a peak of something gruesome. Initially, with the animal masks and the attack on the wealthy, I thought the film was gearing up for a dose of environmental social commentary, as if the killers were extreme defenders of Mother Nature. I'm actually relieved that the film never picks up any ham-handed political subtext. As a horror movie, it's far more effective than most genre deconstructions that will undercut the terror for the chance at a good joke. Even Cabin in the Woods was like this. Again, You're Next can be riotously funny, especially in the last act, but it can also, and often is, quite suspenseful as well. Once the game get sunder way, you start playing along as well, guessing which of our participants will indeed be next. They place themselves in precarious positions often, especially early, which makes it all the more suspenseful, because you're suspecting anything can happen at any time. You're lying in wait, and Wingard does an excellent job of drawing out that tension to a peak level before hitting the horror or gore. There are some gruesomely bloody moments in the film but it doesn't lovingly linger on the deconstruction of the human body. And just when it seems like the number of housemates fighting for their lives has gotten so low that the thrills would have to be successfully all wrung out, You're Next supplies a twist that changes gears, introducing a new threat and a new level of dramatic tension. When Erin assembles an ax to smash into the skull of whoever opens the front door, you're eagerly waiting for that Chekov's gun to fire (Can we rename it Chekov's Ax to the Face?). The fact that the movie is almost designed as a Home Alone for demented adults is ingenious. The acting is a bit hit or miss but the standout, by far, is Vinson (Step Up 3D). She's our lead heroine, yes, but she takes charge in a way usually reserved for men in these types of movies. She has all sorts of crafty experience with wilderness survival and setting up traps, plus she is able to marshal the family from a bunch of WASPs screaming their guts out into something of a fighting force. And plus, Vinson just has an awesome screen presence to her. It's a great role for her but credit the actress for knocking it out, giving the audience a strong, extremely capable, and empathetic hero. It's satisfying to watch the masked killers be outfoxed by their prey. Many of the actors in the film are filmmakers themselves (Joe Swanberg, Ti West, Amy Seimetz), and they've collaborated on numerous projects, including other lo-fi horror features, the new Splat Pack if you will. If you're looking for a fun horror movie with a dark sense of humor, then You're Next should be next on your list. It's savvy, scary, and knows how to goose an audience at just the right moments. Wingard and Barrett know how to give an audience what they want without pandering, and that's what elevates You're Next from its peers. This is a horror film that can scare you one minute, make you laugh uncomfortably the next, and then ultimate leave you cheering the vengeful dismemberment of human life with kitchen appliances. It is a more than effectively put together horror thriller from beginning to end. Nate's Grade: B+
Nate Zoebl
Super Reviewer
½
A surprisingly effective slice of horror concerning a family get-together torn asunder by mysterious home invaders donning animal masks, looking to kill everyone in their sights. The movie starts out with two grisly murders, followed by a set-up that seems pretty ordinary for the commonly made bad horror movie. It is not until the movie lunges forward at an alarming rate during a family dinner, where tables are literally turned and the bodies start hitting the floor, that this movie begins to show promise. Ultimately, it is a movie that relies on its twists, and the biggest of all comes from a character's upbringing (what?! Character development in a horror film!?), and how they are able to fight back and start to slash the slashers off one by one. It probably goes a little overboard in the violence and blood, and although the motive is well explained, there are a couple holes with it. But overall, this is a good little movie whose title is stupid but the content within is actually pretty clever given the genre it is firmly footed in.
Dan Schultz
Super Reviewer
You're Next Quotes
| | |
| --- | --- |
| Erik Harson: | I stuck a blender in his head and killed him. |
| | |
| --- | --- |
| Crispian: | Never seen you act like this before. |
| Erin Harson: | Well, it's a unique situation. |
| | |
| --- | --- |
| Zee: | Fuck me next to your dead mother. |
| | |
| --- | --- |
| Zee: | Fuck me next to your dead mother. |