Yu-Gi-Oh!: The Movie
(2004)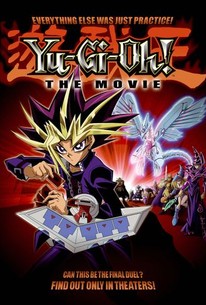 Yu-Gi-Oh!: The Movie Videos
Yu-Gi-Oh!: The Movie Photos
Movie Info
The popular anime series Yu-Gi-Oh! makes the jump from television to the big screen with the franchise's first feature film. Yugi (voice of Dan Green) is a boy who, like thousands of others, is a loyal fan of "Duel Monsters," a card game that's sweeping the nation. Yugi joins many other players for a Duel Monsters tournament in Battle City, where they make a startling discovery -- the "Duel Monsters" cards have supernatural powers that have resurrected Anubia, an evil leader from ancient Egypt. As it happens, one of Yugi's ancestors was a pharaoh who vanquished Anubia centuries before, and now the young man and his pals must use their skills with the cards to conquer the foe once again. Yu-Gi-Oh! The Movie arrived in American movie theaters in the summer of 2004, six years after the Yu-Gi-Oh! television series (and its attendant flood of merchandise) made its debut in Japan.
News & Interviews for Yu-Gi-Oh!: The Movie
Critic Reviews for Yu-Gi-Oh!: The Movie
Audience Reviews for Yu-Gi-Oh!: The Movie
Either the fans of the Yu-Gi-Oh! trading card game will enjoy this film or nobody will. Gladly, I am one.
Thomas Truong
MAGICIANS VALKYRIA MAN MAGICIANS VALKYRIA SHES LIKE THE HOTTEST THING TO HAPPEN TO ANIME SINCE FUTABU!!! THERES A BIT WHERE IF YOU PUASE AT THE RIGHT TIME IT LOOKS LIKE YOU CAN SEE UP HER SKIRT AND SHES NOT WEARING ANY UNDERWEAR IT WAS THE DAY THIS BOY BECAME A MAN
James carbines
Nothing really works here. Though the animations is slightly better than the one in the Anime, it is still pretty sketchy. The plot is super simplistic, the main duel between Yugi and Kaiba was actually pretty boring and dry. Even though Yu-Gi-Oh! is one of my favorite Anime of all time, this movie was a total disaster.
Daniel Ringer
Yu-Gi-Oh!: The Movie Quotes
Discussion Forum
Discuss Yu-Gi-Oh!: The Movie on our Movie forum!