Yukinojo Henge (An Actor's Revenge)
(1971)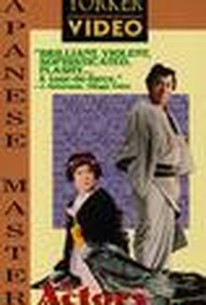 Yukinojo Henge (An Actor's Revenge) Photos
Movie Info
In this renowned and classic Japanese film directed by Kon Ichikawa, the great Kabuki onnagata Kasuo Hasegawa celebrates his 300th film appearance in a role designed especially for him. One of the classic theater styles of Japan, Kabuki does not use women in female roles. Highly trained male actors, called "onnagata," perform in them, and are often more convincing as women than many women might be. In the story, set in 1836, Yukinojo (Kasuo Hasegawa) is an onnagata, travelling to Edo in feminine disguise. On his journey, he recognizes three ruthless merchants who ruined his father's business, driving him to suicide. Pledged to revenge his father's death, he follows them, and with the help of a mysterious bandit martial artist named Yamitaro (also Hasegawa), fulfills his pledge, even though this means the destruction of one of the merchant's innocent daughters, who has fallen in love with him. Actor Hasegawa performed these same roles in a 1935 film version of this same story, directed by Teinosuke Kinugasa, who consulted on this film. ~ Clarke Fountain, Rovi
Critic Reviews for Yukinojo Henge (An Actor's Revenge)
Audience Reviews for Yukinojo Henge (An Actor's Revenge)
such a weird film. your basic revenge plot highly stylized. kazuo hasegawa is pretty amazing as the cross-dressing kabuki actor who elaborately plots the demise of the men who destroyed his family when he was a boy. he's in drag throughout but has mad samurai skills and two beautiful women fall in love with him (!) lovely cinematography and set designs but the film is melodramatic and the rhythm feels odd as it's meant to reflect kabuki theater. strange score too. this is a remake of a film from the 30's starring the same actor and he still pulls it off 30 years later
Stella Dallas
Super Reviewer
The visual flair is audacious, lively, and incredibly enjoyable to behold. The colors are vibrant, the staging absolutely exquisite. Masterful use of empty space. He exploits the widescreen scope in dazzling and unusual ways. He effortlessly tosses off one bold stylistic flourish after another as if to say, "there's plenty more where that came from!" The acting is top-notch across the board. The story is full of intrigue, suspense, romance, melodrama, and an astonishing playfulness and wit.
Martin Teller
I loved this film. I found it because of my interest in Onnagata, but it is a great film in its own right, with intricate plotting and suspenseful atmostphere.
Yukinojo Henge (An Actor's Revenge) Quotes
There are no approved quotes yet for this movie.
Discussion Forum
Discuss Yukinojo Henge (An Actor's Revenge) on our Movie forum!