Yurusarezaru mono (Unforgiven)
(2014)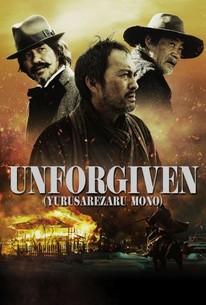 Movie Info
Ken Watanabe stars in this samurai spin on Clint Eastwood's Unforgiven chronicling an aging swordsman who is lured back into action to perform one final job. Lee Sang-Il directs, with Koichi Sato and Akira Emoto co-starring. ~ Jeremy Wheeler, Rovi
Rating:
NR
Genre:
,
Directed By:
Runtime:
Critic Reviews for Yurusarezaru mono (Unforgiven)
Audience Reviews for Yurusarezaru mono (Unforgiven)
½
Set in post-Shogunate Japan a small town Madame sends out word of her bounty on two men that had disfigured the face of one of her working girls. This attracts blade wielding samurais passing through town on their quest. Kingo recruits old friend and widower Jubei to abandon his young boy and girl to head out on horseback to kill the offenders. But they will have to get past a disturbingly cruel sheriff that runs a shit-hole of a remote rural outpost where the crime occurred. The sheriff keeps and uneasy peace in town, but derives his pleasure from his power over others, exemplified by his trickery and beating of a lone samurai and, much later, the torture death of dear old Kingo. A dreary depressing soundtrack appropriately conveyed a foreboding mood and added to the hopeless circumstances throughout. Dull brown fabric colors and dark interior scenes illuminated by dim candle and lantern lighting of the period (reminiscent of some dark scenes in the Godfather) added to this sense of foreboding and hopelessness. In complete contrast, the breathtaking snow shots are most beautiful in their starkness and bleakness. You can just feel no one is going to survive the bullets, swords or cold to make it through the film alive - not even the legendary Jubei. In the end his Anui partner and a working girl accept the honor to travel to Jubei's farm and raise his now orphaned children.
Walter Prater
If you've seen the original Unforgiven this film doesn't add much. Mainly I spent my time wondering what changes they would make to the Western to make it fit the Japanese context. Mostly they don't change much, even when it doesn't make sense. For example, a samurai being asked to give up their sword is very different from an outlaw being asked to give up their gun, and of course a second small sword worn openly is much different from a concealed handgun. I'm not sure if such a ban was even practical in Japan, and even if it was it changes the Little Bill analogue into a much more intrusive and unclear character. After complaining it didn't change enough it may seem odd that I'm complaining about a change it did make, but the whole point of the original was that Little Bill was a man with some good ideals (law and order and the protection of property) and some bad methods (violently beating a defenseless man) who was only the opponent to the main protagonists because of the circumstances of their arrival. This version really doesn't explain what drives the guy, which makes it hard to understand the reason for some of these scenes if you haven't seen the original. Scenes with Watanabe's character suffer from this too as it was Eastwood's weary and uncertain performance that made his changed nature believable. It's a bit harder for Watanabe to sell things that way and while he keeps the weariness you never really feel that he's a changed man, or even that he was supposed to be. They would have been better off keeping the basic plot and themes intact while changing more of the details and characters. That was the heart of the original. As a film on its own it stands up fairly well. The cinematography (shot entirely in beautiful and snowy Hokkaido) is amazing. The sets are beautiful as well. It truly is a beautiful film to watch. The acting is good, even if some of the roles underutilize them. And the drama works fairly well, even if it is missing most of the undertones and subtext of the original. I suppose that the big disappointment is that unlike the original it never really questions the underlying values of its genre, it simply works to create the best film it can within that framework. And if you go in wanting only to see that you will not be disappointed.
Stuart McCunn
Set in a historically the same era as the original, this film is exceptional for its beautiful cinematography and acting and for its unusual theme relating to the persecution of the Ainu people of Japan. It is not therefore merely a an homage but adds an entirely new theme and dimension. It is also excSet in a historically the same era as the original, 11 years after the Meiji restoration, this film is exceptional for its acting and beautiful cinematography and for its unusual theme relating to the persecution of the Ainu people of Japan. It is not therefore merely an homage but adds an entirely new theme and dimension. It is also extremely thoughtful on the issue of mortality and the moral and emotional costs involved in taking the life of another man.5/5
Crispin Bates
Yurusarezaru mono (Unforgiven) Quotes
There are no approved quotes yet for this movie.