Yves Saint Laurent - L'amour fou
(2011)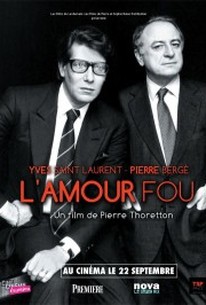 Yves Saint Laurent - L'amour fou Videos
Yves Saint Laurent - L'amour fou Photos
Movie Info
The public life of Yves Saint Laurent was as extravagant as it was decadent, as a design prodigy and then the grand couturier of a fashion empire, he influenced fifty years of style - but few are familiar with the private life of the legend. In Pierre Thoretton's L'AMOUR FOU, Pierre Berge, the man with which YSL shared four decades of his life and love, reflects on the equally extravagant history of their personal relationship. Framed around the 2009 auction of the priceless, elaborate art collection amassed by Yves and Pierre personally over several decades, this extraordinary documentary provides an unprecedented look at the life of the mythic personality, whose personal life matched his public for elegance, extravagance and passion. An Official Selection of the Toronto and Tribeca Film Festivals, L'AMOUR FOU is an un-missable film event for fans of documentary film and fashion die-hards alike. --(c) IFC
Rating:
NR
Genre:
, ,
Directed By:
Written By:
In Theaters:
On DVD:
Box Office:
$298,781.00
Runtime:
Studio:
News & Interviews for Yves Saint Laurent - L'amour fou
Critic Reviews for Yves Saint Laurent - L'amour fou
Audience Reviews for Yves Saint Laurent - L'amour fou
½
Finally caught up with L'AMOUR FOU which actually has very little to do with the crazy love implied by the title. This is a solid very serious and almost elegiacal film about the master Yves Saint Laurent. The film is full of ellipses designed to make you think about fashion, art, wealth, culture, and fame. Little is said directly but L'AMOUR FOU will leave you thinking and talking for days. A really interesting work.
Michael Lupetin
½
Fashion junkies rejoice: Lâ(TM)amour fou covers every bit of master couture designer Yves Saint Laurentâ(TM)s life as a trendsetter and style-making icon. Told through still images and handheld camera footage from the 50s, 60s, 70s, and 80sâ"including tours of their grand houses (an art-filled apartment on the Left Bank in Paris, a lush mansion in Marrakesh, and a beautiful house in Normandy)â"this film should satisfy both history buffs and people longing for a glimpse inside an elite and glamorous world. From runways to discos, each frame of this thorough documentary resonates with impact. Laurentâ(TM)s long-time romantic partner of 50+ years (who also helped him found his own fashion house once he was let go from Christian Dior), Pierre Bergà (C), speaks candidly to the camera about Yves rise to fame, his struggle with drugs and alcohol, his decision to retire, and his death. After losing his beloved, Bergà (C) decides to auction off their 20-year collection of art with Christieâ(TM)s as a way of letting go and healing. His face as each piece is bought is a bundle of emotions, and rivals the beauty of the vintage photographs and ground-breaking designs shown throughout. Appearances by Andy Warhol and Mick Jagger, and a brief, yet beautiful, glimpse of the exquisite Catherine Devenue singing to la Laurent at a fashion show punctuate this lovingly-told life story, but itâ(TM)s really the love and admiration of Bergà (C) that says the most about this fascinating man. I highly recommended this to documentary fans. Whether you worship couture or notâ"youâ(TM)re guaranteed to like this.
Amie Simon
Wonderful portrait of Yves Saint Laurent and his life long love. In this age of narcissist celebrities; it was fascinating and touching to see someone upon whom celebrity was thrust, who was basically a shy, somewhat depressive man who coped with it in various ways but seemed never to become that narcisst. His lover, Pierre Berge, was the "man behind the man." Berge emerges as a fiercely intelligent, witty and lovely person in his own right. A dramatic and beautiful biography.
Suzanne T
Yves Saint Laurent - L'amour fou Quotes
There are no approved quotes yet for this movie.