Za ginipiggu: Akuma no jikken (Guinea Pig: Devil's Experiment)
(1985)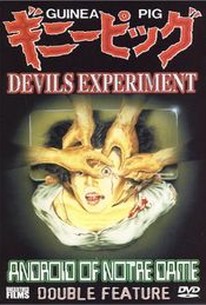 AUDIENCE SCORE
Critic Consensus: No consensus yet.
Movie Info
A group of guys capture a young girl with the intent of hurting her. They torture her in many ways, from beating her to putting a sharp piece of needle-like metal through her eye which pierces across her retina.
Rating:
NC17
Genre:
,
Directed By:
Runtime:
Critic Reviews for Za ginipiggu: Akuma no jikken (Guinea Pig: Devil's Experiment)
There are no critic reviews yet for Za ginipiggu: Akuma no jikken (Guinea Pig: Devil's Experiment). Keep checking Rotten Tomatoes for updates!
Audience Reviews for Za ginipiggu: Akuma no jikken (Guinea Pig: Devil's Experiment)
Guinea Pig: Devil's Experiment is a hard little thing to rate. Is it 1-star? 5-stars? Sure, why not. You can't rate it against real movies that try to tell a story. There isn't any plot here; you can infer some surrounding thing (like the Flixster description that calls it a "capture", or a review that called it a "kidnapping"), but nothing like that is actually ever shown. But at the same time, not hard to say that the person in question wasn't in that situation voluntarily. What is shown is slowly escalating forms of torture. And it rides that line where you know it's fake, but you keep looking for the trick--the places where the camera blinks (ah, time to add makeup!) or where the hits don't land (totally slapping his palm, there). Few people will view Guinea Pig and think it's a snuff film. But it doesn't have to be a snuff film. Most of the barely-over-40-minute runtime is comparatively tame. It's split into sections, each starting off with a black screen and a title. The first is "Hit". And then the movie gives you a few minutes of the guys hitting their probably-kidnapped/captured-victim-person (unless she volunteered after all). Section 2 was "Kick". They kick her. Etc, etc. The title gives some further context. Guinea Pig, experiment, these men are engaged in... something. She's their guinea pig. They're testing... something. Based on the video, seems to be how long she'll endure a method of torture until she... vomits? I mean, that seems to be the end result for most of their nefarious schemes, so. The grainy video helps add to the illusion. The 80s VHS stutter and spit is in full display here. It layers an ominous sheen to the whole obviously-fake ordeal. Which is good, because the three guys conducting their experiment are pretty bad at being menacing. I mean, the director recognizes this and tries to keep them off screen most of the time. But you still get the feeling occasionally from the things they say (not that there is a lot of dialog here; you can totally watch this without subtitles) that they've got the maturity of middle schoolers. Like they way they giggle throughout the "Guts" segment (disappointingly titled). I know I have no interest in watching a snuff film. Zero, nil, zilch. I actively avoid consuming real life examples of filmed death, whether it is a cop shooting someone on the streets of NYC or a guy falling off a cliff. I think people's lives are too valuable to be cheapened for a few minutes of Internet viewing. But at the same time, I want to be disturbed. And so while I could rate Devil's Experiment anywhere between 1 and 5, I gave it a solid 2 for being somewhat interesting, but largely failing to disturb.
Jacob Gehman
For starters, my usual warning with such films--do not watch Guinea Pig: The Devil's Experiment unless you are a fan of genuinely twisted and perverted cinema. As with the later (and sometimes more notorious) entries in the Guinea Pig series, this original film is a well-crafted, brutal, gut-wrenching body horror experience in which the audience basically watches for 45 minutes as a woman undergoes a series of different forms of torture. As brutal, unsympathetic, nihilistic, nasty, and realistic as you can expect horror film to be, The Devil's Experiment does not ever develop any point or real aesthetic--its only accomplishments are on the level of special effects. Judging it on those criteria alone, it would be brilliant, but it fails to do anything meaningful with its brutality. It is simply a fake snuff film that--if anything--will make you feel nasty about yourself for wanting to watch it and then sitting through the whole thing.
Al Miller
The first installment of this notorious horror series presents a woman being kidnapped by a gang of black-clad men who torture her for several days before finally killing her.She is beaten savagely,spun around in the chair endlessly,has her finger nails pulled,animal guts are thrown at her,hot boiling water is poured on her and finally her eyeball is punctured with a needle(really sick and nasty scene).The makers of this unforgettable torture show tried to make it as real as possible and for me this one is the closest thing to a snuff film you can get without committing murder on tape.Of course some of the special effects are rather poor but the idea of making a snuff is pretty gruesome.I have seen also "Flowers of Flesh and Blood" which is more gory and sadistic,but less disturbing.Anyway,this one is a must-see for horror fans!
Cassandra Maples
Super Reviewer
Za ginipiggu: Akuma no jikken (Guinea Pig: Devil's Experiment) Quotes
There are no approved quotes yet for this movie.