Za majikku awâ (The Magic Hour)
(2008)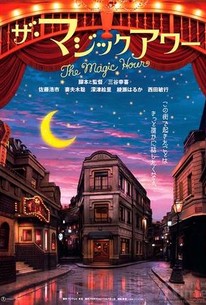 AUDIENCE SCORE
Critic Consensus: No consensus yet.
Movie Info
When an ambitious underworld thug proves incapable of tracking down a hit-man for his powerful boss as promised, he convinces a third-rate actor to accept a role for a film that will never get made.
Critic Reviews for Za majikku awâ (The Magic Hour)
There are no critic reviews yet for Za majikku awâ (The Magic Hour). Keep checking Rotten Tomatoes for updates!
Audience Reviews for Za majikku awâ (The Magic Hour)
½
Koki Mitani's The Magic Hour may be a bit too long for its tastes, but it certainly has its own style.
While spanning nearly 2 hours and 10 minutes, this picture's story is written with a sense of intelligence. The humor is subtle, yet effective, although there is room for more considering this is primarily viewed upon as a comedy. With that said, aside from the film getting more serious and dramatic near the end, the plot contains a consistent level of amusement.
The setting looks like it's straight out of a movie studio, but as mentioned earlier, the story is cleverly written in a way where this actually works out. The costumes and even the background music all piece together nicely as well.
Koichi Sato puts on quite the performance and the film wouldn't have been the same without him or his character. Eri Fukatsu and Satoshi Tsumabuki get some well deserved screen time. The lovely Haruka Ayase is highly under utilized, but shines with what time is allotted for her.
The Magic Hour and its light-hearted nature give it a recommendable status for a Japanese comedy.
Gang member playing tonsil hockey with the gang boss's girl tries to wriggle out of getting cement shoes by finding a famous assassin. Since he doesn't know the hitman he hires an unknown actor to unknowingly play the part. High jinks ensue. Though about three quarters of the way through the knockabout comedy subtly shifts into a sweeter story with dreams and character arcs leading to a surprisingly satisfying ending.
Za majikku awâ (The Magic Hour) Quotes
There are no approved quotes yet for this movie.