Záhrada (The Garden)
(1995)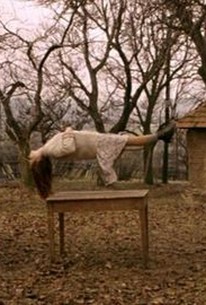 AUDIENCE SCORE
Critic Consensus: No consensus yet.
Záhrada (The Garden) Photos
Movie Info
The miraculous adventures of Jakub are chronicled in this gently eccentric Slovak comedy. The story is laid out like a novel with title cards naming each chapter. It all begins after the libidinous Jakub is booted out of his home by his father after he is caught making love to another man's wife. He is banished to his grandfather's garden and given explicit orders to sell it. Jakub stumbles across his grandfather's journal which is written with backwards script. He holds a mirror to it and finds a map leading him to a old bottle of wine that had been hidden years ago. Now the curious Jakub must solve the mysteries of his grandfather's land. He goes to the garden and finds Helena, a young girl dubbed the Virgin Miraculous in the title cards. Jakub's grandfather taught her to write backwards, much to the chagrin of her abusive mother who considers Helena's writing as mere scribbling. Strange things happen in the garden, and some of them do indeed seem like miracles. Amid the strange events, Helena teaches Jakub to appreciate the delicate mysteries of life.
Rating:
NR
Genre:
, ,
Directed By:
Written By:
In Theaters:
Runtime:
Critic Reviews for Záhrada (The Garden)
There are no critic reviews yet for Záhrada (The Garden). Keep checking Rotten Tomatoes for updates!
Audience Reviews for Záhrada (The Garden)
From the beginning of The Garden (Záhrada; dir. Martin ?ulík, 1995), the lead character, Jakub (Roman Luknár) is shown to have a relatively simple life for the mid 1990s. He lives at home with his dad, who works?slightly anachronistically, or at least it would seem to my American eyes?as an at-home tailor. Angry with Jakub for sitting around at home and having an affair with a married woman right in front of him, his dad (portrayed by Marian Lábuda) kicks Jakub out of the house, telling him to sell off the garden that his grandfather owned to buy an apartment. Instead, Jakub dons his grandfather?s clothes (literally and figuratively) and works around the garden and small home within the fenced-off property. As soon as he gets there, his simpleness is shown in some unembellished ways: he clumsily breaks the fence gate down while standing on it, knocks over the framing of an old shed, and falls through wooden planks into a well. Like in The Shop on Main Street (Obchod na korze; dirs. Ján Kadár and Elmar Klos, 1965), the simple lead character gets his feet wet while wearing shoes in a moment of lumbering embarrassment. Wet feet play another two roles in The Garden. When one of Jakub?s several mysterious visitors comes, the shepherd Benedict (Ján Melkovi?), he has Jakub wash his feet. This is a biblical reference (like many other situations in the film, including the title itself) concerning Saint Benedict?s precepts for monks living communally in monasteries. In Chapter 53 of The Rule of Saint Benedict, he describes the rules of hospitality, which includes foot washing. Later in the film, Jakub attempts to wash the feet of his odd love interest, Helena (Zuzana ?ulajová), which works as a way for her to open up (or lash out) about the way other men only treat her as a sex object. Helena is introduced in the film by rescuing Jakub (who is childishly hiding in a tree) from a frightening dog, showing some almost-supernatural command over the beast. In their first conversation, Helena admits that her mother believes her to be ?dotty??a trait that bonds the slightly simple-minded Jakub closer to her. In a moment of his continuing awkwardness, he attempts to look down her shirt without warning, which causes her to leave. Since she is apparently used to this type of treatment, though, it does not prevent her from coming back and, after several meetings, finally having sex with Jakub. Their sex occurs on (and, later, wrapped inside) a sheet covered with apples, which has obvious biblical connotations. Using an apple tree as a symbol of lost innocence?as borrowed from the story of Adam & Eve?might be a trend in Central European filmmaking, as the same symbol occurs in Daisies (Sedmikrásky; dir. V?ra Chytilová, 1966). As the lead two characters from Daisies decide to ?take the apple? and live their life as they want, so do Jakub and Helena in The Garden. Also reminiscent of Daisies is Jakub?s refusal of living life the ?normal? way. His married lover from the beginning of the film, Tereza (Jana ?vandová), does not understand why he would want to stay in his grandfather?s garden, and even tries to take him back to the city with her. Jakub does not want to go, so with an exchange of apples, he leaves her. He finds a great calmness and tranquility in the garden, away from technology, and having nothing else to do but tend to the house and yard. While this is presented as something that would surely be desired by all, that is not the case?people who live in cities and in society would usually rather stay where they are than live in what is essentially the wild. If this were not the case, technology would not be so dominant and not have such an exponentially increasing presence in the world every day. Since its presence is increasing (and not decreasing), that means that Jakub?s lifestyle choices are indeed against the feelings of the world, just like the characters from Daisies also are doing things that the world would disagree with under the guise that it is just what the world is coming to. The world is not really as bad as the characters from Daisies are, and the world is really not as hopeful for a return to simplicity as Jakub is. Through clumsy actions, unusual circumstances, and biblical references, The Garden shows a man?s journey from simplicity (in his mind) to simplicity in his way of life.
Tim Smith
Záhrada (The Garden) Quotes
There are no approved quotes yet for this movie.