Zardoz
(1974)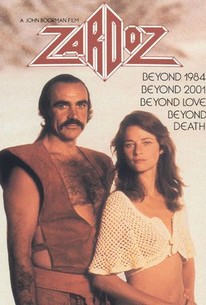 Movie Info
A resident of 23rd-century Earth becomes involved in a revolution after discovering the hidden truth about society's rulers in director John Boorman's sci-fi drama. Sean Connery plays Zed, the central rebel, who begins the film as a member of the Exterminators, a band of skilled assassins who exact a reign of terror over the lesser Brutals. The Exterminators answer only to their god, a gigantic stone image known as Zardoz. Haunted by doubt about Zardoz's true divinity, Zed chooses to investigate. His disbelief is confirmed when the god proves to be a fraudulent tool of the Eternals, a secret society of brilliant immortals who pretend to divinity in order to exploit the masses. Knowing the truth, Zed sets out to reveal the hoax and destroy the Eternals' unjust rule. ~ Judd Blaise, Rovi
News & Interviews for Zardoz
Critic Reviews for Zardoz
Audience Reviews for Zardoz
An underrated futuristic social satire that is definitely self-indulgent but also more thought-provoking and smart than it appears to be, while its mind-blowing visuals and bizarre dialogue contribute to give shape to a surrealistic allegory that is both fascinating and original.
Carlos Magalhães
Super Reviewer
½
An "outlander" mortal killer stows away inside a flying head to reach "the vortex," a land of bored immortals who view him as either a threat, a curiosity, or a savior. The crazy mix of high camp (Sean Connery running around in a red diaper), serious speculative sci-fi and budget psychedelic effects could only have been made in the 1970s; it's a highly entertaining cult movie time capsule.
This is the weirdest sci-fi movie of the 70s, I think. The story is confusing until the end, and then you realize it was really stupid anyway. I hated it.
Zardoz Quotes
| | |
| --- | --- |
| Zed: | Zardoz speaks to you. |
| | |
| --- | --- |
| Arthur Frayn: | I am Arthur Frayn, and I am Zardoz. |
| | |
| --- | --- |
| Avalow: | Death approaches! We are all mortal again! Now we can say 'yes' to death, but never again 'no'. Now, we must make our farewells: to each other, to the sun and moon, trees and sky, earth and rock; the landscape of our long waking-dream. |
| | |
| --- | --- |
| Zed: | What is it you want? |
| Friend: | Sweet death. Oblivion. |
| Zed: | For yourself, or for the whole Vortex? |
| Friend: | For everybody. An end to the human race. It has plagued this pretty planet for far too long. |