Zatôichi
(1989)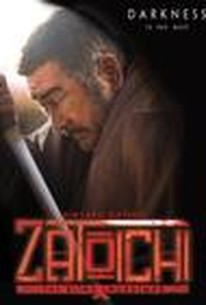 AUDIENCE SCORE
Critic Consensus: No consensus yet.
Movie Info
Shintaro Katsu took his final bow as Zatoichi, the nomadic blind swordsman, in this martial arts action saga from Japan. After being released from jail on charges of petty theft, Ichi finds himself caught between two rival bands of yakuza, one of whom has obtained a cache of guns from crooked policemen. Zatoichi throws in his lot with the sword-carrying gangsters, and stands at the fore as they face off for a battle to the death. En route to his destiny, Ichi confronts a group of crooked gamblers, protects the children of his village, and seeks comfort in the arms of a beautiful courtesan. At the time of its release, this became the twenty-sixth episode in the saga of Zatoichi, and the first theatrically-released Zatoichi episode since the 1973 Zatoichi's Conspiracy. It was intended to be the final film in the saga, though Beat Takeshi Kitano would later create his own idiosyncratic variation on the story in 2003. ~ Mark Deming, Rovi
Rating:
NR
Genre:
, ,
Directed By:
Written By:
In Theaters:
On DVD:
Runtime:
Studio:
Media Blasters
Critic Reviews for Zatôichi
There are no critic reviews yet for Zatôichi. Keep checking Rotten Tomatoes for updates!
Audience Reviews for Zatôichi
- Do. Not. Fuck. With. Blind. Samurai. - Apparently, the women are badasses too. A guitar player just garrotted someone. - Protip: Don't insult the mafia when they're standing right in front of you. - 4 folks with hoes in a field hoe in time to the soundtrack. Interesting. - Paper lanterns with candles inside apparently are a common, and not flammable, thing. - Best line: "Oh he's the neighbor's son. He's quite mad I'm afraid." - That was a pretty neat trick. He is really fast. - If you are that fast, you can prevent someone from drawing their sword by running towards them & body blocking them. Interesting. - Paper lanterns with fire inside still work unhindered in the rain. What sorcery is this? - Creepy. They painted eyeballs on his closed eyelids so he wouldn't look blind. - You can hide a dagger in the neck of a guitar. - Houses made of wood, straw & paper burn really fast. - Aaaaand he just cleanly sliced a stone lantern in half. - These 4 guys hoeing...they keep popping up. Dancing in the field, now hammering a house together. It's like Blue Man Group. - "Shoes" apparently are chunks of wood strapped to the feet with rope. Colored rope, but still...rope. - And they're dancing up a storm in these "shoes". A combination of tap & Riverdance. - OMG, it's the entire cast dancing! Like at the end of a musical! Sweet! - Ok. It was 2 hours long, lots of blood, and some very sad plot points. But it was a good movie.
Namir Gharaibeh
Shintaro Katsu appears on screen as Zatoichi for the last time. 16 years after the last film (though there was a TV series in between), Katsu has lost none of his humour or style. It's amazing to think that an actor can pick up such a role, and make it seem as though there was no gap at all. This is also a bit of a disappointment. Nothing is made of Zatoichi's age, he's no longer the 27 year old he was in his first appearance, but his age has added no real difficulties. Also there are films before this that put Zatoichi in greater peril and have him put through more pain. As a final installment, you would hope for something more definite in it's conclusion. Luckily though, this is still an fantastic Zatoichi movie, with all the gambling, fighting and great characters you could hope for. The violence goes to the extent of chopping off someones nose, which then slides down a wall. Zatoichi also demonstrates a much darker sense of humour, which includes using decapitated heads as puppets for shock value.The best thing of all, this film is very 80's. The music has twangy guitars, there's a grim gritty grainy look to it all and BEST of all, it even has an 80's power ballad that plays over some scenes (and the song's in English). You almost expect Zatoichi to flip on some shades and drive into the sunset.
Luke Baldock
Super Reviewer
this one is better than kitano's :) why don't they quit messin with him? he seems like a nice guy!
Stella Dallas
Super Reviewer
Zatôichi Quotes
There are no approved quotes yet for this movie.
Discussion Forum
Discuss Zatôichi on our Movie forum!