Zatoichi at Large
(1972)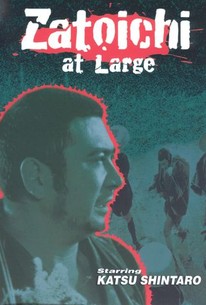 AUDIENCE SCORE
Critic Consensus: No consensus yet.
Movie Info
Zatoichi may be blind but that physical impairment doesn't stop him from being a master masseur and an even better swordsman. It is his good heart that guides him to have such skills in the face of such adversity, but it is also his good heart that puts him in harm's way. When he helps a woman deliver her baby, he promises to deliver the child to its father shortly before the mother dies. Zatoichi's simple favor results in unforeseen consequences, however, when he finds that the town he has delivered the child to is oppressively run by the yakuza. With no choice but to become involved, Zatoichi attempts to free the people of the village from the mob's iron grip, though it may cost him his own life.
Critic Reviews for Zatoichi at Large
There are no critic reviews yet for Zatoichi at Large. Keep checking Rotten Tomatoes for updates!
Audience Reviews for Zatoichi at Large
While the basic premise of Ichi taking another baby from his now dead mother, shortly after actually delivering the child for the dying woman, he must once again fufill the dying wish of the mother to deliver the child to it's father. This is the 23rd film in the Zatoichi saga and while the premise is literally identical to a couple of the earlier Ichi films, the film uses some fresh filming techniques and an American-influenced score and as usual sets up a good storyline. Once again the first half of the film establishes the basic plot then as we enter the second half and Ichi goes to work on the yakuza who are exploiting and abusing the local villagers. Literally until the last second and frame of the film he goes on a wild killing spree as he fights to restore justice to the area.
Chris Browning
Super Reviewer
Once again Zatoichi is given the responsibility of returning a child to their father. I actually groaned at this early plot point, as it's doing too much of the same. The rest of the film is, as usual, a well constructed story with some great action scenes. We see Zatoichi subdued and humiliated, and after watching through the whole series so far, that was quite a hard to take. Unluckily, this film has an annoying child actor that you just wish Zatoichi would slice up and constantly beat. This doesn't happen. There are some great bits, such as the man who refuses to arrest Zatoichi, telling him that his wanted picture looks nothing like him.
Luke Baldock
Super Reviewer
By the numbers, but an exciting climax.
Anthony Valletta
Super Reviewer
Zatoichi at Large Quotes
There are no approved quotes yet for this movie.