Zatoichi - The New Tale of Zatoichi
(1963)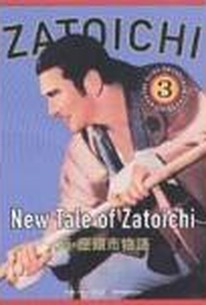 AUDIENCE SCORE
Critic Consensus: No consensus yet.
Movie Info
In this classic samurai tale, Zatoichi (Shintaro Katsu) is a legendary swordsman whose feats of skill and cunning are all the more remarkable for the fact he cannot see. Zatoichi has tired of the warrior's life, and has returned to the village of his birth in search of peace and tranquility. Meanwhile, Zatoichi's former mentor Banno has arranged for his sister Yayoi to marry a wealthy samurai, but when Zatoichi and Yayoi meet, they quickly fall in love. Banno, however, refuses to grant his old student his sister's hand, leading to an ugly confrontation. But Zatoichi's love life is hardly his only problem; some time ago, he killed a corrupt politician, and now the man's brother has sworn vengeance against him. ~ Mark Deming, Rovi
Critic Reviews for Zatoichi - The New Tale of Zatoichi
All Critics (2) | Fresh (2) | Rotten (0) | DVD (2)
In addition to greater character development and bigger, bolder fight scenes, installment number three marks the foray of the Zatoichi series into the wonderful world of Technicolor.
Audience Reviews for Zatoichi - The New Tale of Zatoichi
½
The third Zatoichi film, and the first in color, The New Tale of Zatoichi is packed with action and some great battle scenes and displays of Zatoichi's drawing skills as he splits more candles in half and one by one each fall off perfectly in sync while still lit. We get much more character development and even see a more softer and vulnerable Zatoichi as he tries to quit the life of killing to marry a young girl who falls for him. Of course it turns out she is the daughter of Zatoichi's master who taught him the way of the sword. He quickly renounces Zatoichi and forbids the marriage, and we findout that he has fallen from the samurai path and is now nothing more than a murderer and thief. In the end of course it's up to Zatoichi to bring justice to those who have hurt and killed the innocent and caused such tragedy to unfold.
Chris Browning
Super Reviewer
½
This is the struggle of what Zatoichi much do in order to escape the Yakuza, to give it up for love it seems as though he is constantly swimming against the current for even the Yakuza member who pays him the kindness of letting go of his debt is senselessly murdered when Zaoitchi attempts to thank him by his owner friend. It seems as though the master of Zatoichi is not a friend or a fair man, a cold and calculating thief and murderer of innocent men who uses Zatoichi and at the first chance kicks Zatoichi when he asks for his sister's hand in marriage. I hate to say it, but this movie seems really cruel to Zatoichi, I cannot help but to feel bad for him. Leaving the sword alone is impossible for him, in the turbulent times of civil war that embodied the spirit of Japan's feudal era his is the knight's piece in the chess board of life. He has killed men, yet he is a good man in a cruel time and place.
Greg Afilmlovingweirdofromcali
Super Reviewer
½
Zatoichi enters the world of colour with incredible cinematography from Chishi Makiura. It has a dark look, but what whatever the light touches is brought to life dramatically. It doesn't use the colour as a gimmick, and half an hour in you forget the last two films were in black and white. The New Tale of Zatoichi sees Kanbei's brother searching for revenge. This isn't a simple revenge story though. He isn't doing it out of love, but out of the shame of having a blind man slay his brother. Once again Zatoichi (almost) enters a complex love affair as he tries to release the sister of his old master from an arranged marriage. Zatoichi continues to be a fascinating character. Never has a man that has avoided violence been so subjected to it. The highlight, however, is seeing the man in pursuit of Zatoichi sparing his arm in an act of admirable mercy. The third film and no steam has been lost.
Luke Baldock
Super Reviewer
Zatoichi - The New Tale of Zatoichi Quotes