Zebrahead
(1992)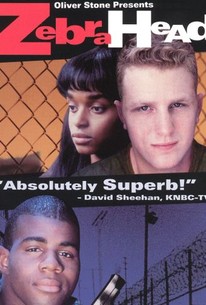 Movie Info
An interracial romance sparks social upheaval in this indie drama from first-time writer/director Anthony Drazan. Jewish high school student Zack Glass (Michael Rapaport) lives with his widowed, womanizing father (Ray Sharkey) in one of the nicer areas of Detroit. His pop and grandfather own a pair of vintage record stores full of everything from swing and jazz to soul and disco; Zack carries on the vinyl-centric family tradition by selling hip-hop mix tapes out of his locker and mixing fiddles and Puccini into his DJ sets at local parties. One day at school, beautiful New Jersey transfer student Nikki (N'Bushe Wright) witnesses Zack's girlfriend unceremoniously dumping him; when it turns out that Zack's best friend, Dee Wimms (DeShonn Castle), is Nikki's cousin, the stage is set for romance -- the first interracial pairing for each teen. Dee is happy to play matchmaker, but members of the Wimms clan aren't as pleased with the romance. Nikki's mother, Marlene (Candy Ann Brown), asks Zack point-blank if he's curious about black women -- or just slumming it. Such mild disapproval is nothing compared to the rage felt by Nut (Ron Johnson), a young troublemaker who wants to romance Nikki himself. When Nikki overhears Zack making a racially insensitive comment about her to his pals at a party, she questions the viability of their relationship; the next day, she finds herself making time with Nut, who displays an unexpected tender streak. When Zack shows up at the local skating rink to talk to Nikki and sees Nut pestering her, things spiral out of control. Soon, the lines are drawn in a community-wide debate about interracial dating and urban violence. Zebrahead earned a Filmmaker's Trophy for Drazan at Sundance in 1992 and launched the successful careers of Rapaport and Wright. Indie fans will notice Kevin Corrigan in an elliptical subplot involving the industrial disintegration of the Motor City.
Rating:
R
Genre:
Directed By:
Written By:
In Theaters:
On DVD:
Runtime:
Studio:
Ixtlan Corporation
Critic Reviews for Zebrahead
Audience Reviews for Zebrahead
good topic and it gets better as the story unfolds...and it possibly was somewhat more relevant a little while back...but the problems they face in the story def. still exists.
Mike N.
½
Caught this late one night on Encore and my low expectations were definitely exceeded. Never can pinpoint it, but for some reason I like just about anything with Michael Rapaport in it.
Lawrence Baden
½
Michael Rapaport's breakout film, which typecast him into similar roles throughout his movie career. He plays a Jewish high school student, Zach Glass, who attends a predominately African-American school in Detroit. He lives with his father, a lover of women and music, who owns a record store along with Zach's grandfather. Zach shares his father's passions. He sells hip-hop tapes out of his locker at school, and becomes infatuated with an attractive, intelligent African-American female, Nikki, whom he eventually has a sexual relationship with. Nikki is now Glass' girlfriend. Glass' best friend, Dee, is Nikki's cousin, and is OK with their interracial dalliance. However, Nikki's family and other black students at the high school are not, and make their disapproval of the relationship known. One of the most vocal opponents of the love match is a hoodlum, Nut, who is himself sexually attracted to Nikki, making his already-present contempt of Glass all the more palpable. Glass takes Nikki to a party thrown by his white ex-girlfriend (Nikki was invited), and everything is going fine, until Nikki overhears Zach making an inappropriate comment about her to his white friends in order to justify his interracial relationship to them. She immediately leaves the party, and tells Zach that she wants nothing to do with him. During this time, Nut attempts to romance Nikki, and they share a consensual kiss, but Nikki comes to her senses, and pushes him away, obviously still thinking about Zach. A few days later, Zach comes to Nikki's house and apologizes for his actions, which she finally accepts. She invites Zach to meet her at the local skating rink that night, and he agrees. Later at the rink, Nikki is approached by Nut, who is still trying to make advances towards her. Zach shows up and sees Nut and Nikki holding arms while skating together. Zach and Dee eventually approach Nut, and a confrontation ensues, with tragic results. Zebrahead is a good film that shows racial tensions in a realistic manner, and shows the harm that can result from such tensions, and gives a clear message that it is wrong. Three and one-half stars.
Phil Fagala
Zebrahead Quotes
There are no approved quotes yet for this movie.
Discussion Forum
Discuss Zebrahead on our Movie forum!