A Zed and Two Noughts
(1990)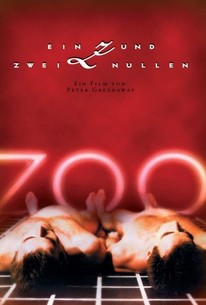 Movie Info
This twisted black comedy is obsessed in turn with swans, twins, and decay. Alba Bewick (Andréa Ferréol) is involved in a swan-related car accident near the zoo. The accident kills two other women, the wives of two twin zoologists, Oliver and Oswald Deuce (Brian and Eric Deacon). Alba is lucky enough to escape with one leg. Eventually her doctor also removes the other "because it was dangerous for the spine." Meanwhile, the Deuce brothers, as a result of losing their wives, have become fascinated with the decay of corpses, and they start making rather gruesome time-lapse films to examine the process more thoroughly. Both brothers become involved with Alba. Needless to say, this film may not appeal to everybody.
People Who Like this movie also like
Critic Reviews for A Zed and Two Noughts
Audience Reviews for A Zed and Two Noughts
My first foray into the work of Peter Greenaway, a filmmaker I have heard much about, and have wanted to get into for awhile, but just never got around to it until now. I was definently not disappointed with my first exposure to him. This film definently has high replay value, as I imagine new layers will show themselves upon repeated viewings. I'll start by saying that visually this movie is flawless. A feast for the eyes if there ever was one. The sets are meticulous. The film is overflowing with symbolism and metaphor. Even the costumes look like they were carefully selected to contribute to the overall feeling of the film. This isn't a case of style over substance either though. This film is dense in it's ideas and how it chooses to get those idea's across. There are a lot of recurring themes here (Grief, Decay, Loss, Rarities etc). So dense that I'm not going to try and explain what I think it all is supposed to mean, especially after first watch. I definently will be revisiting this movie again and again though, and I look forward to seeing more of Greenaway's work in the future. A must see if you enjoy Art House, Dark comedy, the bizarre and so on.
Ed Fucking Harris
Super Reviewer
A delightfully perverse film. I'm sure that I will never see a better movie fixated on amputation and rotting carrion. As with most Peter Greenaway films, the stylized cinematography, lighting and sets are a marvel. Greenaway is more like a Renaissance painter than a director, and his longtime collaborator Michael Nyman delivers another stirring, processional score which perfectly accents all the slow tracking shots. Real-life twins play two zoologists whose wives are killed in a traffic accident after an escaped swan flies into their car and causes the driver, one Alba Bewick, to lose control. Alba survives, but her leg is amputated. She seems to *enjoy* this new handicap and cheerfully reclines in bed, flaunting her lingerie-clad body to multiple visitors. Meanwhile, the widowed twins become obsessed with post-mortem decay, and begin time-lapse photographing a variety of dead subjects. Gradually, they advance to more and more complex organisms. A few other side plots sneak into the story, including Alba's dalliance with another amputee who's missing *both* legs. Greenaway's usual feast of sex and full frontal nudity is on ample display, and every female character seems to be a whore at heart. If this offends you, you've probably wandered into the wrong film by mistake. If it's not obvious, the title elaborates the spelling of "Z-O-O." I wonder if David Cronenberg saw this movie, prior to writing "Dead Ringers"?
Eric Broome
Super Reviewer
Too many weird naked men...I don't know about my teacher's taste in movies anymore.
A Zed and Two Noughts Quotes
There are no approved quotes yet for this movie.