Zeitgeist: The Movie
(2007)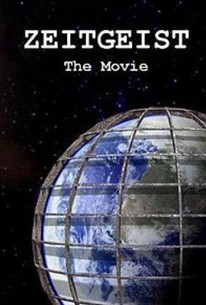 AUDIENCE SCORE
Critic Consensus: No consensus yet.
Zeitgeist: The Movie Photos
Movie Info
Zeitgeist was created as a non-profit filmiac expression to inspire people to start looking at the world from a more critical perspective and to understand that very often things are not what the population at large think they are.
Rating:
G
Genre:
, ,
Directed By:
Written By:
In Theaters:
On DVD:
Runtime:
Studio:
Independent Films
Watch it now
Critic Reviews for Zeitgeist: The Movie
There are no critic reviews yet for Zeitgeist: The Movie. Keep checking Rotten Tomatoes for updates!
Audience Reviews for Zeitgeist: The Movie
I like to learn about DIFFERENT points of views!
Thomas Johnston
Super Reviewer
½
Less of a documentary and more of a strung together series of vignettes on conspiracy theories and pablam, "Zeitgeist" does at least do what it purports to do: make the audience think of the world critically. It does inspire the viewer to look deeply into the recesses of history and question the government, the markets, and even religion, but it is not a well done documentary, if you can even call it that. Originally the three parts of this film were YouTube videos put up by the director, Peter Joseph. The ramblings of this internet poster generated interest and now Joseph has made three films questioning everything from public education to the financial collapse in 2008. It's not the content that is questionable, because Joseph actually researches and backs up many of his claims with some irrefutable and scientific data, calling upon scientists, politicians, and professors to help prove basic claims. This particular "Zeitgeist" film covers three parts, but not equally. The first section is a brief overview on the specifics of religion and how many religions have similar origin stories for their messiahs. This section doesn't make any argument and is short compared to the rest. The middle part revolves around a conspiracy perpetrated by the United States government to stage 9/11. Now, Joseph does make some valid points about some sketchy and basically backwards problems that have arisen, including structural damage of the buildings, inconsistencies about the 9/11 Commission, and testimony that has been unearthed. I'm still not a true believer, because conspiracy theories usually lend to horrific implications without direct, solid proof, and to think that of my government is just too much for me to handle. The last bit is an overview of three US wars and how each of them were for profit, including World War Two. The last bit is muddled compared to the middle, which seems to be the most important to the filmmaker. The most offending part of this is the pretentious overtones of the director, who drags this film out with long sequences of explosions, children crying, mayhem in the streets, all connecting back to the subject matter. Joseph makes himself seem important by including a long prologue showing his "skills" as a filmmaker. Throughout all that gravitas and pretentious dribble there might be a message, but it so alienates the audience that's it's hard to take caution.
Spencer S.
Super Reviewer
Having said that crime sells big time, this one calls for humbly adding BS to the list. The sentence quoted below is used in the movie, not in quite a good way: "You just keep talking about things and saying them over and over and over again, and eventually people believe it." While the movie includes that line (seemingly opposing the idea), ironically enough, it uses the very same tactic to "educate" the viewers. Partly, if not in whole, but sufficiently enough. If that doesn't bother you much either, it's quite an entertaining ride for what it is. Well, boredom too is an ingredient, but is restrained. Besides, that's subjective like everything else. Watch this educational movie with due attention & try to benefit from the abundant info it pours out!!! Talking of info, I'd like to share some to add to your knowledge. So, exclusively FYI, had I wanted, I'd have sued the film-makers for mocking ME & questioning MY existence. (And, predictably enough, went ahead to win the case.) But as you may or may not know, MY generosity knows no bounds & forgiveness comes natural to ME.
familiar stranger
Super Reviewer
Discussion Forum
Discuss Zeitgeist: The Movie on our Movie forum!
News & Features