Zibahkhana (Hell's Ground)
(2007)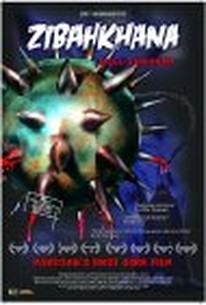 Movie Info
Director Omar Ali Khan teams with Mondo Macabro to create Pakistan's first splatter flick, a demented tale of terror pitting a group of stranded teens against a horde of hungry zombies, a shrieking hitchhiker, and a burqa-clad killer armed with a gore-drenched mace. They were on the road to adventure when their van ran out of gas. Now, as a desperate group of teens attempt to navigate their way out of a darkened forest, the earth cracks open to reveal an army of cannibalistic corpses. As if brain-eating zombies weren't enough to contend with, there's also a banshee-like hitchhiker stalking the teens at every turn. But this nightmare has only begun, because when a menacing figure in a bloody burqa appears wielding a medieval weapon, any hope for survival seems as far off as the morning sun. ~ Jason Buchanan, Rovi
Rating:
NR
Genre:
Directed By:
In Theaters:
On DVD:
Runtime:
Studio:
Critic Reviews for Zibahkhana (Hell's Ground)
Audience Reviews for Zibahkhana (Hell's Ground)
½
Zibahkhana (or Hell's Ground as it's known here in the states) is an amazingly created homage to the 70's Grindhouse horror films of America (i.e. Texas Chainsaw Massacre and Dawn of the Dead) with a Middle Eastern spin. This is a story of 5 Pakistani youths lying to their parents in order to take a road trip to a concert in the city. As luck would have it though, they embark down the wrong path into the Islamabad jungle where all sorts of horrors await them. The great thing about said horrors is that all punches are pulled as these kids endure a group of flesh-eating zombies (thanks in part to a small sub-plot involving polluted waters), a crazed hitchhiker (a great homage to the hitchhiker scene in Texas Chainsaw Massacre), and finally a crazed burqa-wearing, mace swinging maniac that is brutal and crazy enough to rival old Leatherface. Like I said, this film was a total surprise and VERY entertaining. The kills are small, but effective, as well as very gory. All of the actors did a commendable job in the film and I liked the way they switched on and off from English to Pakistani at the drop of a hat. It was a very effective way of keeping both sides of the fence happy, though I was more than excited to be shown the great Pakistani culture as well as a side of that part of the world that rarely ever shows it's horror side. Very good, old fashion horror film. I loved it.
Jason Duron
½
Convoluted is one way to put it. It's starts with zombies and ends with a Texas Chain Saw Massacre type slasher... what? But I still really liked the film. It's shot and constructed like a film from the 70s and you can clearly see the TCSM and Evil Dead influences, but I mean who doesn't copy now-adays. What saved this film from dreck was that it harkened back to a magical time for horror, was much more exotic local than most horrors, and the soundtrack fucking kicked ass. Un-original...fuck it. Keep kicking it out Khan.
Patrick Dolan
Super Reviewer
½
The first film from Pakistan plays out like a homage to few classic horror films.Is a slasher film with few zombies in it & a family of maniacs that lives in the woods.For the budget that the film was working with,it was a good attempt from this first time director.So we have teenagers with tickets to a concert that takes a wrong turn & find themselves lost & then a crazy hitchhiker gets in their van.What comes to mind is Texas chainsaw massacre.I really was looking forward to a zombie mayhem & originality with the death scenes,besides nothing original about the plot.The film manages to deliver few gory scenes,creepy atmosphere at times & it has the grainy look of a film from the 70's or early 80's which works fine for the film.This director have potential to come up with something better than this film,with a better script & to be more original.
Zibahkhana (Hell's Ground) Quotes
There are no approved quotes yet for this movie.
Discussion Forum
Discuss Zibahkhana (Hell's Ground) on our Movie forum!