Zigzag
(2002)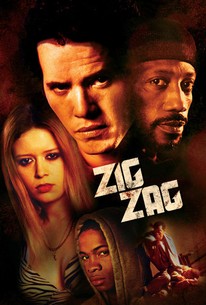 Movie Info
Zigzag is the directorial debut of screenwriter David S. Goyer (Blade, Blade 2). Based on the well-received debut novel by Landon J. Napoleon, the film tells the story of an autistic teenager, Louis "Zigzag" Fletcher (Sam Jones III). Zigzag is a sensitive and thoughtful boy who retreats into his own mind to escape the harshness of his inner-city life, particularly the abuse of his father (Wesley Snipes). His only friend is Singer (John Leguizamo), his compassionate Big Brother, who gives Louis his nickname, and tells the boy he's imbued with special powers. He's trying to get Zigzag removed from his father's home, and also to teach him to survive. Singer has testicular cancer, and is concerned that he won't always be around when the boy needs him. Zigzag works as a dishwasher in a restaurant owned by the Toad (Oliver Platt), an amusingly caustic Southerner. After Zigzag's father demands 200 dollars for rent, the boy sees Toad opening his office safe, and commits the combination to memory. Later, he takes 9,000 dollars from the safe. When he attempts to give his father the rent, his father takes all the money. When Singer finds out what Zigzag has done, he goes to desperate lengths to get the money back, so he can return it to Toad before Zigzag gets into trouble. As Singer's plan goes awry, this brings the pair into contact with a sleazy loan shark (Luke Goss, who was also in Blade 2) and a kindhearted prostitute (Natasha Lyonne). The film's soundtrack was composed by Grant Lee Phillips. Zigzag was shown at the 2002 SXSW Festival.
Rating:
R (drug Content and Language)
Genre:
Directed By:
Written By:
In Theaters:
On DVD:
Runtime:
Studio:
Silver Nitrate Films
News & Interviews for Zigzag
Critic Reviews for Zigzag
Audience Reviews for Zigzag
This drama about a poor autistic kid with an abusive dad is decent, but it has a tendency to drag at times. The kid playing the autistic Zigzag is pretty good, the supporting cast is hit and miss. Goyer's directorial debut proves him competent but not exceptional, I think he is a better screenwriter.
Ken Scheck
(***): [img]http://images.rottentomatoes.com/images/user/icons/icon14.gif[/img] Interesting and with a good cast.
TTT C
When Wesley Snipes first appears, you wonder, if there is going to be some tight action, or fight scenes that will be worth your while. However, you keep watching and then realize, Goyer must be related to an IRS agent. The lead character has been given little to no direction. There are facial ticks and speaking tendencies that appear and disappear, as if Goyer could't make up his mind how badly disabled the character should be. Leguizamo is totally impotent as the cancer ridden "big" that has the incredibly stupid idea of borrowing from a strip club loan shark to pay back money that his "little" stole, but no one knows he stole it, so, huh? The best part of the movie is when 'Zig Zag" tells his 'big' that he peed on his couch, but it was unlike any pee he did before. Brilliant. Thanks Goyer. Bloody horrible.
Ringo Miyagi
Zigzag Quotes
There are no approved quotes yet for this movie.