Zodiac
(2007)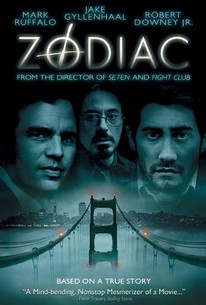 TOMATOMETER
AUDIENCE SCORE
Critic Consensus: A quiet, dialogue-driven thriller that delivers with scene after scene of gut-wrenching anxiety. David Fincher also spends more time illustrating nuances of his characters and recreating the mood of the 70s than he does on gory details of murder.
Movie Info
Based on the true story of the notorious serial killer and the intense manhunt he inspired, Zodiac is a superbly crafted thriller form the director of Se7en and Panic Room. Featuring an outstanding ensemble cast led by Jake Gyllenhaal, Robert Downey Jr., Mark Ruffalo and Chloë Sevigny, Zodiac is a searing and singularly haunting examination of twin obsessions: one man's desire to kill and another's quest for the truth.
Rating:
R (for some strong killings, language, drug material and brief sexual images)
Genre:
Directed By:
Written By:
In Theaters:
On DVD:
Runtime:
Studio:
News & Interviews for Zodiac
Critic Reviews for Zodiac
Audience Reviews for Zodiac
½
A weird trend in films emerged during this time that dealt in unsolved crimes, conspiracies, and murder ("The Black Dahlia," "Hollywoodland," etc.). Of these films, the only one that was ever taken seriously was David Fincher's "Zodiac". The film deals in the murders perpetrated by the self-named Zodiac Killer, as he terrorizes citizens in San Francisco, and sends letters to the Chronicle. His letters get the attention of a reporter (Downey Jr.) who starts to unravel, and a cartoonist (Gyllenhaal) who tries to solve the crime as a way to avenge his friend. What sets this film apart from the others is its adept handling of the historical facts that make up the mystery of the Zodiac. Though the mystery has never been solved, and probably never will be, its best suspect is followed throughout the bulk of the film. The ending, though not concrete in its assertions, leaves you feeling satisfied. Many of the more thrilling scenes are handled expertly by Fincher: when the Zodiac kills his first victims, when he corners some kids at the beach, when Gyllenhaal suspects the man leading him into the basement might be the actual killer. Every one of these scenes leaves you feeling frightened and tense, making this one of the more interesting and horrifying films to deal with real life crime. Some of the actual facts and theories that the cartoonist follows, become confusing, as Gyllenhaal's character leaps from suspect to suspect, trying to piece together the facts of these crimes while also adhering to fingerprinting and handwriting samples that often don't match his suspects'. This film is an amazing chapter in the investigation of the Zodiac, and hopefully, one day, will find its addendum and be solved.
Spencer S.
Super Reviewer
Matt Goodman
Super Reviewer
Fincher is probably one of my favorite directors in Hollywood, and it is movies like Zodiac that solidify him as such. The characters in this movie are ridiculously well developed. For a dialogue heavy thriller, Zodiac is every bit as entertaining as an action movie- and it is twice as engrossing. The movie is ultimately a tale about obsession. It chronicles one man's exhausting search for truth, even as his obsession begins to get the better of other parts of his life. The protagonists in this movie are sucked into the intrigue and mystery surrounding the Zodiac Killer, and Fincher captures this intensity and desperation perfectly. At times frightening, at times frustrating, Zodiac is the best police procedural I have ever seen. Gyllenhaal and Ruffalo deliver the script perfectly and manically. And in their borderline hysteria, the viewer is effectively and equally entranced as the characters.
Nikhil Nandu
Super Reviewer
Discussion Forum
Discuss Zodiac on our Movie forum!