Zombie Wars
(2006)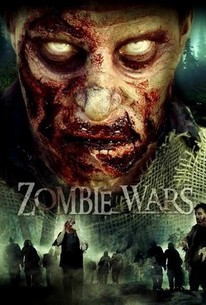 AUDIENCE SCORE
Critic Consensus: No consensus yet.
Movie Info
After a zombie apocalypse, humanity is enslaved by zombies. Bred in captivity for food, these humans receive no education or training. Bands of free humans work to free the captives and turn the tide against the zombies.
Critic Reviews for Zombie Wars
There are no critic reviews yet for Zombie Wars. Keep checking Rotten Tomatoes for updates!
Audience Reviews for Zombie Wars
The little bitches momma shot the dumb ass. A soldier off at war leaves his wife and daughter behind living with his father. While gone, a zombie apocalypse occurs making it hard for him to get back to his family. He fights his way across the globe and returns home to discover America is ravaged and people survive in small colonies. When he gets home, he discoveries his wife and child were kidnapped by one of the colonies while his father was out gathering supplies. His father and the soldier will stop at nothing to rescue them. "Does she look of age to you?" "Fresh pussy is fresh pussy, reverend." "You need to get your dick wet, you fuck one of those grown bitches." David Prior, director of Night Claws, Raw Justice, The Lost Platoon, Lock N' Load, Felony, Rapid Fire, Death Chase, Jungle Assault, and Hell on the Battleground, delivers Zombie Warz. The storyline for this picture was way better than I anticipated and reminded me of a cross of Doomsday and Road Warrior. The action scenes are better than anticipated but the acting is absolutely terrible. The cast includes Adam Mayfield, Jim Hazelton, Danielle Jacobs, and John Michael Thomas. "Don't listen to the doctor. She has a cunt!" We grabbed this movie from Redbox for Halloween night. At first, we thought this movie was going to be terrible because the script and acting is well below average; however, the settings, costumes, action scenes, and overall plot is way better than you could ever anticipate. I am not ashamed to say we couldn't wait to see how everything turned out. If you're a fan of horror movies, you should catch this picture at least once. "Where is my daughter?!?!" Grade: C+
Kevin Robbins
some kind of film-school project? strange even for a zombie flick, but humorous and entertaining if you can stomach it and have an open mind. zombie film buffs will either like it or despise it, most seem to think it's terrible
Jonathan H
I would like to apologize to Mr. Romero for calling his zombie movies crap.
James Alvarez
Super Reviewer
Zombie Wars Quotes
There are no approved quotes yet for this movie.
Discussion Forum
Discuss Zombie Wars on our Movie forum!