Zombie Night
(2003)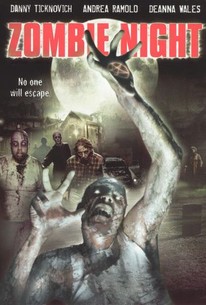 AUDIENCE SCORE
Critic Consensus: No consensus yet.
Movie Info
A quaint California town that comes under siege by zombies in this horror yarn directed by John Gulager (Feast, Piranha 3DD) and starring Anthony Michael Hall, Daryl Hannah, Shirley Jones, and Alan Ruck. ~ Jason Buchanan, Rovi
Audience Reviews for Zombie Night
One line summary: Gore aplenty, and five actors trapped in a terrible script. ----------------- The zombie apocalypse erupts in Pasadena, CA. At least that is where this was filmed. Supposedly it erupts everywhere else as well. With a certain amount of courage, and ten times as much cowardice, some non-zombies try to survive the night. One of the conceits of the film is that the zombies will go inactive come sunrise. The humans proceed with variable success, but mostly failure, to live until sun up. One wonders what will happen the next night. How many will survive? -----Scores------ Cinematography: 8/10 Reasonable for a night picture. Sound: 5/10 OK for the most part, but the anti-relevant sound track did not help. Acting: 3/10 Shirley Jones was OK as an infirm old woman whose wailing caused another death, but her role was short. Anthony Michael Hall, Darryl Hanna, Alan Ruck, and Jennifer Taylor were reasonable; given the script, that is. With a decent script and an experienced director, any of these actors can give a nice performance. In contrast, the other people who were filmed were not recognizable as actors. Screenplay: 0/10 Wall to wall nonsense, and one of the worst zombie films I've ever seen.
Ed Collins
A real piece of crap, Zombie Night jumps right into its zombie apocalypse set-up in first five minutes but never really delivers any thrills, gore, or engaging drama. Its cavalcade of 80s stars does little to make it interesting as it draws towards its inevitably boring conclusion.
Al Miller
I was excited to see this one. Love horror, huge zombie fan and this looked to have an interesting story hook and very clever cast (and OMG, what happened to Darryl Hannah??). How disappointing then to sit through what is almost inarguably the worst zombie film every made. I tried very hard and can't come up with a single redeeming quality for this heap o' crap and I've got to believe the entire cast has to be rethinking their decisions to participate.
John Wagner
Zombie Night Quotes
There are no approved quotes yet for this movie.
Discussion Forum
Discuss Zombie Night on our Movie forum!