Zombies Anonymous
(2007)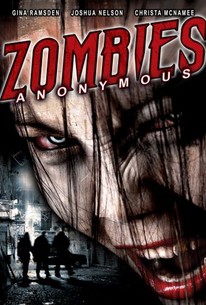 AUDIENCE SCORE
Critic Consensus: No consensus yet.
Movie Info
In a world where the living and the dead coexist, a girl shot dead by her boyfriend struggles to make the transition into her new zombie lifestyle by attending Zombies Anonymous meetings and making new friends amongst the amiable undead. Angela (Gina Ramsden) is dead, the victim of a vicious shooting by her psychotic boyfriend Josh (Joshua Nelson). But despite the fact that Angela's heart may have stopped beating, she still has to go about living like everybody else. As Angela becomes a part of the new zombie society, she is introduced to a rotting subculture where look-alive face creams and all meat dinners help the mortally challenged feel like healthy, functional members of society.
Rating:
NR
Genre:
Directed By:
Written By:
On DVD:
Runtime:
Studio:
Insane-O-Rama Productions
Cast
Critic Reviews for Zombies Anonymous
All Critics (1) | Fresh (1) | Rotten (0)
Gore hounds won't be disappointed in this area; true horror enthusiasts will dig the hell out of the whole deal.
Audience Reviews for Zombies Anonymous
An A+ "B" movie. If you like zombie movies, this is a treat! Gina Ramsden is great as a "mortally challenged" single girl just trying to get along. Flesh-eating plus light comedy! What could be better? Streams on netflix.
Peter A
½
The best bad zombie movie. Terrible and great at the same time. It's supposed to be cheesy. It's supposed to be ridiculous. That's why I love it.
Leah Sparks
Imagine a world where nobody really dies. Oh sure, their hearts stop beating, but aside from that one little quirk ... ZA is just that world. It takes the basic premise that zombies are people too and exaggerates it to seemingly no limit. There's a lot not to like in ZA, but the heart of this flick is some pretty clever writing. And that's really too bad, because a lot of the great one liners and interesting thoughts are wasted on what becomes a rock'em sock'em shot'em up. The fight scenes (of which there are way too many) are excruciatingly bad. Also, it's hard to believe there can be that much gun play and screaming right in the middle downtown America and the police never show up. The "film" is shot on what looks to be video tape. The score is pretty annoying at times, and acting seems have been replaced by screaming. Then there's the writing, it's as out of place here as donuts are at Zombies Anonymous meeting. I'm sure it would have made a much better book.
john b
Zombies Anonymous Quotes
There are no approved quotes yet for this movie.