Zombies (I Eat Your Skin)(Voodoo Blood Bath)(Zombie Bloodbath)
(1978)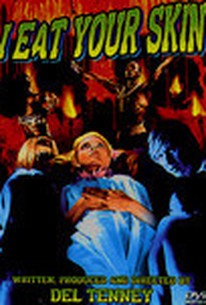 AUDIENCE SCORE
Critic Consensus: No consensus yet.
Movie Info
A companion to "I Drink Your Blood" -- not really. Originally titled "Voodoo Blood Bath" this film about a mad scientist creating radioactive monsters on a remote island was purchased 7 years after it was made and retitled. No cannibalism.
Critic Reviews for Zombies (I Eat Your Skin)(Voodoo Blood Bath)(Zombie Bloodbath)
There are no critic reviews yet for Zombies (I Eat Your Skin)(Voodoo Blood Bath)(Zombie Bloodbath). Keep checking Rotten Tomatoes for updates!
Audience Reviews for Zombies (I Eat Your Skin)(Voodoo Blood Bath)(Zombie Bloodbath)
From 1964. The acting, editing, and script are pretty bad in this movie. It's a lot like other horror movies of the early 60s, with a very predictable ending, and some silly stuff thrown in just because. The zombies are slightly scary, but there was too much voodoo dancing and too less zombies. Plus, no eating of skin! Overall, a pretty bad movie.
½
Ummmmm....did I miss the part where they ate the skin? While this has a few funny moments (high on camp, low on gore & fear), as a whole it was a bit slow. And for some reason they appear to have dubbed (badly) the voice of "Coral" (one of the main characters) with the most ridiculous grating "Jersy" voice, to spite the fact that the film was made in English and the actress was born in Florida? But Coral's voice over is just the tip of the "off putting" things about the film, which include - horrible edits, ridiculous make-up and special effects. A must for fans of "B" (C?) movies and the history of the "horror" genre in general.
½
To be honest, I'm very experienced in the genre of horror, zombie movies or otherwise, par having seen a good few classics like Dawn of the Dead, Day of the Dead, Night Of The Living Dead, Zombie 2, etc. of which id call myself a fan, but, after having seen this movie, "I Eat Your Skin" otherwise known as "Voodoo Blood-Bath", I decided to see what other people thought about the movie, particularly on this website. I, personally LOVED IT! I thought it was a really good watch, I felt the story was well structured, und if I had of been around back then in 1964 to see it, id have gone so far as to say that the story is believable! that to me, is HORROR. a film that provokes the audience und tricks the audience into thinking, "wow, this might or could have actually happened!" don't get me wrong, its very very funny in parts too, some could say for the wrong reason. Of course the movie was cheesy, the acting was very silly, und the over dubbing was hilarious! but I see this as more to the charm of the whole experience. a really funny example of bad over-dubbing in this movie is where in a scene the natives of the island that the movie is set in are dancing around, und one woman is holding a chicken, and the chicken is meant to be squawking, as it would. but the overdubbing appears to be a human making ridiculous sounds! I'd also like to mention the soundtrack, which i reckon did the experience a lot of favours, as it was actually really good! Call it cliché to love a movie for its cheesiness, but I give this a well deserved 4/12/5, und I truly recommend it to any fan of horror who isn't too judgemental (then again, most horror, you just cant be judgemental about).
Cassandra Maples
Super Reviewer
Zombies (I Eat Your Skin)(Voodoo Blood Bath)(Zombie Bloodbath) Quotes
There are no approved quotes yet for this movie.