Zonbi asu (Zombie Ass: Toilet of the Dead)
(2011)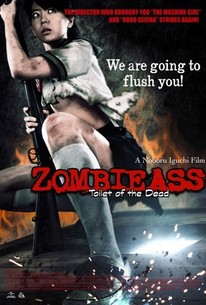 AUDIENCE SCORE
Critic Consensus: No consensus yet.
Zonbi asu (Zombie Ass: Toilet of the Dead) Photos
Movie Info
Talented young martial artist Megumi wrestles with the guilt of her bullied sister's suicide while joining her friends on a journey deep into the woods, where they encounter the nefarious Dr. Tanaka, who conducts gruesome experiments on the living dead. Later, as Dr. Tanaka attempts to make Megumi and friends his latest test subjects, the desperate young woman uses the dual power of karate and flatulence in order to defeat her demented captor. ~ Jason Buchanan, Rovi
Critic Reviews for Zonbi asu (Zombie Ass: Toilet of the Dead)
There are no critic reviews yet for Zonbi asu (Zombie Ass: Toilet of the Dead). Keep checking Rotten Tomatoes for updates!
Audience Reviews for Zonbi asu (Zombie Ass: Toilet of the Dead)
What else would you expect from Noboru Iguchi? Zombie Ass has its roots in anime more so than horror. It's completely filled with bad taste so I can't recommend it, but I watched the whole film in fascination knowing that someone thought this up and convinced an entire crew/cast to make it.
Edward Boxler
Super Reviewer
½
When a movie is called Zombie Ass: Toilet of the Dead, you know you're not meant to take shit seriously. And I realized that was a pun right now, considering the fact that the film is pretty much nonstop toilet humor. I realize that's gonna put a LOT of people off, hell I don't see most people making it past the first 30 minutes and it's not like I can blame them, this movie goes out of its way to gross you out. So this is clearly a film that is only going to appeal to a small group of people. Objectively, this is a very bad film. It is poorly acted, poorly edited, it has terrible special effects (at least a lot of the goriest moments of the film are practical special effects and those looked decent), and it's just really a mess of a movie. But, and to be completely honest with you, I had an absolute blast watching and making fun of this film. It's clear some of the actors weren't really taking anything seriously, and what actor would honestly, so they were being as over-the-top as they possibly could, which adds to the entertainment value. Oddly enough, perhaps not oddly since this is a Japanese movie that's clearly inspired by anime, the film has some moments that are taken out of a soft-corn porn movies and some hentai. There are some many gratuitous ass shots and sexually suggestive imagery. This movie literally leaves nothing to the imagination, because it's not like it's exactly subtle. They go OUT of their way to show you a parasitic monster, that's phallic shaped, going inside a woman's mouth and ejaculat...I mean INJECTING parasites into her body. Same thing with the parasitic monster being inserted into a woman's vagina or the monster itself coming out of their assholes. So it's clear that this film was really more of a soft-corn porn movie with some horror touches than it is the other way around. The story is painfully laughable, the main character is struggling with the guilt of her sister's suicide because she wasn't able to fart in public. Yes, you read that right. Megumi walks in the bathroom to see her sister being bullied by others into farting. Her sister calls out to Megumi for help and the bullies implore Megumi to fart in front of them. This is something that utterly embarrasses her and she refuses to do it. Her bullied sister is then forced to fart in front of her bullies, and she's so embarrassed that she commits suicide. When the character's main emotional hurdle to overcome is the fact that she needs to fart in public, you know you're not supposed to take this movie seriously. I really had a blast watching this movie, but it's definitely an experience that needs to be shared with others. You could definitely get some good laughs out of this film regardless if you watch it alone or with others, but it'd definitely be much more entertaining with a group of people. This is a strange movie, what a surprise, and it's actually really bad when you objectively look at it, but it is a very fun movie to watch and make fun of.
Jesse Ortega
Super Reviewer
Japanese are really good at making these weird films that are just plain ridiculous. Like many other Noboru Iguchi films, it's comically horror with a tint of soft-core pornography. But this is just bad taste, all the jokes were on feces. The plot kind of rips off Texas Chainsaw Massacre with Human Centipede and Evil Dead. Japanese zombies are just not as good as the western ones.
Sylvester Kuo
Super Reviewer
Zonbi asu (Zombie Ass: Toilet of the Dead) Quotes
There are no approved quotes yet for this movie.