Zoo
(2007)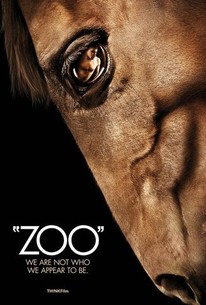 Movie Info
Seattle-based filmmaker Robinson Devor blurs the line between documentary and narrative storytelling with an expressionistic rendering of the 2005 news story that shocked the world. Kenneth Pinyan was a 45-year-old Boeing engineer who, shortly after being anonymously dropped at a Washington state hospital in July 2005, died of a perforated colon. When the subsequent police investigation led authorities to a nearby farm, the discovery of a videotape featuring the recently deceased and other participants engaging in sexual relations with a variety of horses made headlines across the nation. In the aftermath, it was revealed that zoophiles were much more common that most folks would have surmised. Now, through detailed interviews with self-admitted zoophiles and tasteful dramatic reenactments, director Devor and cinematographer Sean Kirby draw viewers into a secretive world populated by animal lovers who see their unconventional desires as completely natural.
News & Interviews for Zoo
Audience Reviews for Zoo
Zoo doesn't exactly deal with the subject of bestiality. Instead it provides testimony of the events leading up to a mans death via penetration by a horse. It is an expose on the lives of a select group of men that feel more connected with animals than they do humans. These are not the sick weirdos you'd expect. They are normal and seemingly intelligent men. The film is shot as a beautiful reconstruction. Every scene is lit perfectly and has a dream like quality. It results in a film that you wish had been played as a fictional narrative. The film does not take shots at anyone and is a genuine attempt to understand these men and have them tell their story.
Luke Baldock
Super Reviewer
Bob Stinson
Super Reviewer
you probably don't want to watch this. it's well made but extremely disturbing. this is animal abuse no matter what these freaks may claim; they are no better than rapists and child molesters; sick
Stella Dallas
Super Reviewer
Zoo Quotes
There are no approved quotes yet for this movie.