Zorro, the Gay Blade
(1981)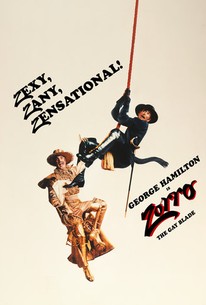 Zorro, the Gay Blade Videos
Zorro, the Gay Blade Photos
Movie Info
In this spoof, Don Diego Vega (George Hamilton) follows in his father's footsteps as he dons the identity of Zorro in an attempt to defend the weak and innocent from the ravages of the evil. However, when Vega falls victim to a debilitating injury, it is up to his gay twin brother, Bunny Wigglesworth (George Hamilton), to take up the mask and sword.
Critic Reviews for Zorro, the Gay Blade
All Critics (14) | Top Critics (1) | Fresh (6) | Rotten (8) | DVD (1)
Tasteless, forced comedy just about killed the Zorro franchise for many years.


Spirituality and Practice
Very funny spoof with its heart in just the right place.

Mountain Xpress (Asheville, NC)
Audience Reviews for Zorro, the Gay Blade
½
HAHAHAHAHAHAHAHA This movie is funny as hell man. I loved this movie before I understood what "gay blade" meant. I just thought he was SUPER happy and loved brightly colored outfits, of course now I know that it means you served in the navy and you're very talented with a whip! Now that I think about it, the gay Zorro doesn't use a blade.... title error, loss of half a star!
nipp str
½
Curiosity definitely killed the cat or rather it should have killed me. Funny, stupid and all of the above...
Ken T
½
One bit, two bits, three bits a peso! All for Zoro, stand up and say so! I love this old cinemax classic!
tim amos
Zorro, the Gay Blade Quotes
Discussion Forum
Discuss Zorro, the Gay Blade on our Movie forum!