Zorro's Fighting Legion
(1939)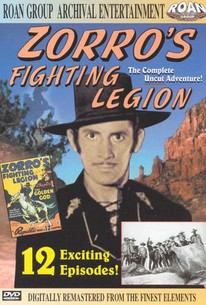 AUDIENCE SCORE
Critic Consensus: No consensus yet.
Movie Info
In 1824, Benito Juarez (Carlton Young), the president of the new Mexican Republic, worries that vitally important gold shipments from the San Mendolito Mines shall never reach Mexico City. The president's understandable fears are quelled, however, by local nobleman Don Francisco (Guy D'Ennery), who is organizing a "fighting legion" to protect the shipments and thus the safety of the six months old republic. Secretly opposing Juarez' endeavors are a group of influential capitalists, one of whom masquerades as Don del Oro, an ancient god of the local Yaqui Indian tribe. But when Don Francisco is killed by persons unknown, a visiting relative from California, handsome and affable Don Diego (Reed Hadley), assumes the disguise of Zorro to lead the legion in search of the identity behind the homicidal Don del Oro. To keep his own identity a secret, Don Diego acts the foppish dude, much to the dismay of his pretty cousin Volita (Sheila Darcy), who denounces him as a coward that could learn a thing or two from Zorro. Meanwhile, the Yaquis, acting on a command from Don del Oro, do indeed attack the gold shipment but are foiled by Zorro and the Legion. Just then an explosion set off by white henchmen Moreno (James Pierce) and Valdez (Charles King) causes an avalanche right in Zorro's path, making his sad demise almost a certainty.
Rating:
NR
Genre:
, ,
Directed By:
Written By:
On DVD:
Runtime:
Critic Reviews for Zorro's Fighting Legion
All Critics (3) | Fresh (3) | Rotten (0) | DVD (1)
Great Republic chapter-play with Reed Hadley & singing Zorros!

Zorro's Fighting Legion contains everything a serial buff could imagine: great cliffhangers, a dashing masked hero, rousing music and a fabulous mystery villain.

Journal and Courier (Lafayette, IN)

Audience Reviews for Zorro's Fighting Legion
This serial has restored my faith in Don Diego Vega, and I now choose to pretend that the debacle known as The Bold Caballero never happened, and I personally banish that movie into the lost film hell that it came from. Zorro's Fighting Legion was an unbelievably fun serial that begins each episode with a rousing musical number. Reed Hadley plays Don Diego, and I now consider him to be the first actor to do so competently in a talking film. As the first episode opens, Mexico has just recently won it's independence from Spain, and needs gold from the mine in San Mendalito to establish itself properly. The greedy council of San Mendalito has something else in mind. They answer to a criminal mastermind masquerading as Don Del Oro, a god of the native yaqui indians. Through this guise he manipulates the indians to attack the army and hijack gold shipments. He promises that he will help rid their home of white men, but actually he plans to assert himself as emperor of Mexico. Don Francisco, apparently the only honest council member, has assembled a group of valiant fighting men, and summoned his nephew Don Diego, who he knows to be Zorro, from California to lead them. Don Francisco is murdered shortly before Zorro arrives, but Don Francisco's protege Ramon fills him in. Zorro takes charge of Francisco's legion, and Diego takes Francisco's chair at the council, making sure to fop it up good and proper so that they won't feel threatened by him. At this point, the stage is set, and the game is on. I really enjoyed this format, and will be looking for other movie serials on dvd. Recommended to those who find movies too short, but an entire season of tv too long.
Paul Savell
Zorro's Fighting Legion Quotes
There are no approved quotes yet for this movie.