Zu Warriors
(2001)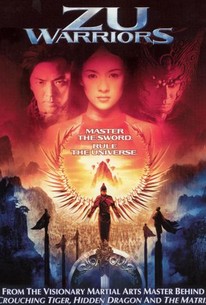 Movie Info
Directed by Tsui Hark, The Legend of Zu is an adaptation of the 64-volume epic novel of the same name, and follows several warriors training in the mysterious Zu mountains. Somehow, the powers of the mountain are absorbed by the warriors and subsequently used to help combat the evil forces threatening the world's safety. When the mountains are invaded by a creature known only as the Blood Demon, the warriors must pool their skills in order to preserve humankind. The film features Louis Koo, Kelly Lin, Zhang Ziyi, Ekin Cheng, Sammo Hung, and Cecilia Cheung.
Critic Reviews for Zu Warriors
Audience Reviews for Zu Warriors
Absolutely awesome.... Although this movie is old, the visuals are stunning! I don't know why they didn't consider this bunch of film makers for the Dragonball Evolution movie?? Makes Dragonball evolution look like crap!!!!
EightThirty .
Super Reviewer
Tsui Hark's The Legend of Zu is one unique action fantasy adventure.
Believe it or not, there is a story, however it is rather difficult to grasp. Why? This film is just so fast paced that the 1 hour and 40 minutes will fly by like nothing. The first 30 minutes is just all action, CG, action, CG, and more action. It almost seems like the finale, and that the film will jump back in time. It doesn't. In fact, the action at the end is able to top this introduction.
The CG and special effects are ALL OVER THE PLACE. Seriously, it is non-stop. Some of it looks good and some of it doesn't. However, this film is so deep in the fantasy genre, that the CG doesn't seem so bad. In fact, it just blends in with the atmosphere.
The cast is stellar. On the male's side there is Ekin Cheng, Louis Koo, Wu Jing, and Sammo Hung. The beautiful ladies in this film are Cecilia Chung, Kelly Lin, and Zhang Ziyi. All do decent jobs with that they are given. The characters just lack the depth they need to really mean anything.
The Legend of Zu is all about the action and effects and less about the story and characters. Fans of these types of fantasy adventures will want to give this a try.
½
I still like this special effects laden remake over the original.
Anthony Valletta
Super Reviewer
Zu Warriors Quotes
There are no approved quotes yet for this movie.