Zus & zo (Hotel Paraiso)
(2003)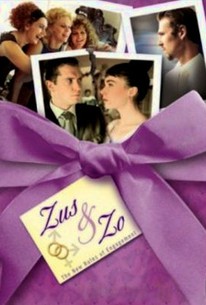 Movie Info
Dutch filmmaker Paula van der Oest spins this frothy comedy about the ends to which three sisters would go to keep possession of the family's summer home in Portugal. When their 32-year-old brother, Nino, announces his engagement with his younger girlfriend, Bo, his three siblings react not with congratulatory happiness but with shocked indignation instead. For one thing, Nino was gay for most of his teens and twenties; and another, if he gets married then he inherits the summer villa. The three sisters are united by two traits: they each have vivid interior fantasy worlds -- often involving having sex with the other's husbands -- and they each dream of retiring to Portugal. Starving artist Wanda wants to open a gallery there, while writer Sonja dreams of living there with her husband. Michelle, the eldest, wants to flee her hectic domestic life as a housewife and mother to open a home for war orphans. Together, they cheerfully connive to undermine the engagement, as Bo invites them to Portugal to help plan the wedding. This film was screened at the 2001 Toronto Film Festival. ~ Jonathan Crow, Rovi
Critic Reviews for Zus & zo (Hotel Paraiso)
Audience Reviews for Zus & zo (Hotel Paraiso)
The director handled most of the film's elements in a light, deliberate manner. She is successful in telling an interesting story about the greed between three sisters and their gay brother (Jacob Derwig as Nino). How each sister treats Nino's fiancée (Halina Reijn as Bo) provides a variety of entertaining situations. How Nino regards his sisters bring the conflicts full circle. The sisters are thrown into utter frenzy when finding out their gay brother has decided to have a marriage of convenience in order to claim family property completely. Naturally, there is a stipulation in the father's will that the resort would pass exclusively to the son upon taking a wife. What might sound like a trite exercise in self-indulgence actually turns out to be a very fine job examining marriage, family relationships, and the problems which occur when keeping secrets. If you like "Desperate Housewives" or found "Hannah and her Sisters" or "The Royal Tenenbaums" of interest, you should enjoy "Zus and Zo." The subtitles aren't much of a problem and you can share this film with almost anyone. The sisters' plots to keep Nino a bachelor are as good as a classic "I Love Lucy" episode. This isn't demeaning the art, just don't expect "Zus and Zo" to be an exercise in typical Euro existentialism! The three sisters are Michelle (Sylvia Poorta), a human rights activist, Wanda (Anneke Blok), a performance or conceptual artist, and Sonja (Monic Hendrickx), a magazine journalist. Each perform in a calculated yet effective manner. The family dynamics are horrendous with Wanda, the only single sister, having an affair with her hypochondriac brother-in-law! (Sonja's husband) Michelle keeps bringing home less fortunate aliens, making her husband and children angry at the limited amount of time they get because of the constant do-gooding for others. Bo is a super cool fiancée. She is, almost unshakably agreeable and courteous in each meeting with the sisters. She seems to have unnaturally progressive and permissive attitudes about Nino and relationships in general. It becomes obvious that Nino still has a thing for his ex-boyfriend, Felix (Pieter Embrechts). Their special friendship started in childhood. Felix is now a hot, celebrity chef. The Dutch settings are beautiful and the camera work is top notch. The final twist is a good one and you will have to view it through the ending credits. "Zus and Zo" isn't rated, but aside from a few brief T & A shots, there's no nudity and little profanity. The subject matter revolves around adult themes so children wouldn't find much interest.
Larry Jenkins
Interesting Dutch film, nice performances, amusing story. There are some slow stretches scattered about, but overall it moves along well. A bit overlong. Nominated for an Oscar for Best Foreign Language Film.
James Higgins
½
weak plot, but decent acting and cinematography. entertaining characters in a not quite funny film.
Stefanie C
Super Reviewer
Zus & zo (Hotel Paraiso) Quotes
There are no approved quotes yet for this movie.
Discussion Forum
Discuss Zus & zo (Hotel Paraiso) on our Movie forum!