Mort à Zyzzyx
(2006)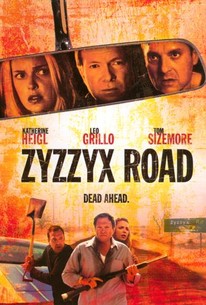 AUDIENCE SCORE
Critic Consensus: No consensus yet.
Movie Info
Un homme marié a une liaison, alors qu'il est en voyage d'affaires, à Las Vegas. Katherine Heigl, Leo Grillo, Tom Sizemore. Un film de John Penney.
Critic Reviews for Mort à Zyzzyx
There are no critic reviews yet for Mort à Zyzzyx. Keep checking Rotten Tomatoes for updates!
Audience Reviews for Mort à Zyzzyx
About five years ago, Zyzzyx Road was produced in the Mojave Desert on a budget of $2,000,000. The film was open for 6 days in cinemas by the end of which a total of 6 tickets had been sold, equalling the value of $30. Two of these tickets, however, were purchased by crew members in the film, and were fully refunded, bringing the film in to earning roughly negative $1,999,980. Since then the film has virtually hit the black again thanks to DVD sales and so on. The notoriety the film gained due to its incredible box-office bomb helped propel Grey's Anatomy/Knocked Up/27 Dresses star Katherine Heigl to her current fame. Zyzzyx Road, plain and simple, is not good. But I think it's quite sad that there are a sea of films out there that this movie absolutely puts to shame that would've made bucketloads, while Zyzzyx is stuck in MinusMillions. There's really only three actors in the whole piece (plus the token redneck you're contractually obliged to put in a road-trip-based US Horror, nobody really stands out, but this just means there was no monumental fuck ups in the B-Movie casting call, where they hire whatever racial group they're lacking at the time, or maybe a girl who's well endowed between the collarbones and lower sternum, rather than on kids who can actually act. It's quite short, and quite simple, so there's not a whole that can be said about it, but is honestly a good 40 or 50 thousand times better than I thought it would be, going in knowing nothing other than that it was being released by Flashback Entertainment. My ex-girlfriend and I despise Flashback. Too many dodgy, cheap and woeful DVD's like The Raven fucking with out faith in humanity. It's not boring, it's not stupid, and it's not annoying, so good on you Zyzzyx Road, may you sell $2 copies of your DVD from bargain bins in the local IGA for many more years to come. -Gimly
Mort à Zyzzyx Quotes
There are no approved quotes yet for this movie.