13 Reasons Why: Season 1
(2017)
SEASON: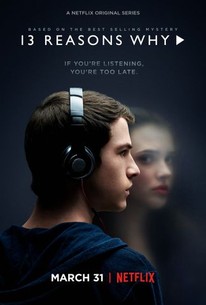 TOMATOMETER
AUDIENCE SCORE
Critic Consensus: 13 Reasons Why complements its bestselling source material with a gripping look at adolescent grief whose narrative maturity belies its YA milieu.
13 Reasons Why: Season 1 Videos
13 Reasons Why: Season 1 Photos
Tv Season Info
The late Hannah Baker explains why she committed suicide to her high school peers through a collection of cassette tapes she left behind.
News & Interviews for 13 Reasons Why: Season 1
Audience Reviews for 13 Reasons Why: Season 1
½
Before I dive into my thoughts on this television show as a whole, I'd like to state that I'm going to be leaving the controversy out of it. There are many people who think this show is just going to help people do the wrong thing, but I believe this is an eye opener to everyone else on how little things people do on a daily basis can affect someone personally. 13 Reasons Why is a very difficult show to watch at times, but I believe it's extremely relevant and should be watched by everyone who is of age. It's a little too extreme to be shown in schools, but I believe it serves that same purpose while viewing. Even though it can be excessive at times, here is why I believe this show is superbly crafted. Based on the novel of the same name (which I haven't had the chance to read), I believe adaptations will always be best served in the form of a television series, as less will be left out. My main concern going in, was the fact that it may be too dark throughout the majority, leaving audiences too disturbed to continue. While there are certainly a few episodes that fit that description, I am glad that this show flashes back and forth between the happy and sad times fairly evenly. Every time this season delves into an overly somber portion of its story, it doesn't linger too much. This show always gives its audience a sense of hope moving forward. After committing suicide for unknown reasons, it is discovered by 13 of her schoolmates that she had recorded a tape for each of them, giving them an explanation as to why they had something to do with her horrible decision. Focussing mainly on Clay Jensen, who had the closest relations with her, the show slowly unravels the truth about why she did this terrible thing to herself. On the surface, this premise should turn most viewers off, but with the countless emotional twists at the end of every episode and a reveal that is one of the most eye-opening moments I have seen so far this year, this show is one that must be seen in my opinion. There are a few moments in the latter half of this season that will make you want to turn away, but the payoff is worth it, in a messed up sort of way. There is no way that any of the viewers will be wanting to see certain things come to fruition, but when they do, sadness will take you over, in the best way possible. This entire season is a lesson for many people, and while some viewers may be offended by the very idea of it, it's not trying to exploit this horrible occurrence that happens far too often, but shine a light for people that may be a little more oblivious than others. Does this show become too dark by the end? Yes, but it's all a part of being effective. If you are a viewer that can be up for anything, I believe this show demands your attention. In the end, '13 Reasons Why' is a show that fully explores the horror of suicide and how it can affect everyone in the process. It's an eye opener for multiple reasons and I truly feel that this is a show everyone should watch, sooner than later. I expertise an enormous amount of caution that a few episodes toward the end are extremely hard to digest, but the end result is emotionally riveting. Written incredibly well from beginning to end, having a terrific cast, and world class directors throughout each and every episode, '13 Reasons Why' is one of the best shows I've seen in a last few years. Again, it may be a little much for viewers that aren't exactly open for anything, but if you can have an open mind and see multiple sides to stories, then you may just end up loving this show just as much as I did. Highly recommended to a mature audience.
I don't think anything will have such an impact on my life as this show did. It was an amazing piece of storytelling and must be seen by everyone at least once
Discussion Forum
Discuss 13 Reasons Why on our TV talk forum!