The West Wing: Season 3
(2001-2002)
SEASON: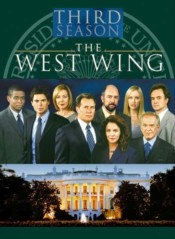 AUDIENCE SCORE
Critic Consensus: No consensus yet.
Episodes
Air date: Oct 3, 2001
The West Wing launches its third season with this special stand-alone episode, designed to address the tragic events of September 11, 2001. Producer Aaron Sorkin briefly interrupts the series' continuity (involving possible impeachment charges against President Jed Bartlett [Martin Sheen]) with a poignant hour-long glimpse behind the doors of the White House during an emergency lockdown in the wake of a 9/11-style disaster. Among those sequestered in the building are a group of gifted high-school students, for whom Deputy Chief of Staff Josh Lyman (Bradley Whitford) is conducting a guided tour. In the course of a very tense evening, Josh and the students come in contact with several other staffers, each one offering an opinion or reflection on the national crisis. Much to the students' surprise, President Bartlet himself shows up to field their questions and to mollify their fears (though ostensibly he is wandering the halls in search of a baked apple!). In a pointed reference to possible repercussions following the "real" 9/11 tragedy, one of Bartlet's aides finds his security clearance in question because of his Islamic background. Its title referring to a parable found in the pages of both the Bible and the Koran, "Isaac and Ishmael" was one of the most controversial -- and most memorable -- episodes of the 2001-2002 season.More
Air date: Oct 10, 2001
Its scheduled telecast delayed because of news coverage of the 9/11 tragedy, this "official" opening episode of The West Wing's third season (the first of two parts) finds the Bartlet White House in turmoil after President Jed Bartlet (Martin Sheen) has made public the fact that he has multiple sclerosis. Inasmuch as there is talk of impeachment because the president kept his medical condition a secret for too long, Press Secretary C.J. Cregg (Allison Janney) is bombarded with nagging and downright hostile questions from a group of reporters -- an experience that causes C.J. to lose her famous cool entirely. In other developments, Bartlet's decision to run for a second term has caused friction between Jed and First Lady Abbey Bartlet (Stockard Channing); the growing crisis in Haiti is sorely affecting the work performance of National Security Advisor Nancy McNally (Anna Deavere Smith); and Chief Counsel Oliver Babish (Oliver Platt) advises presidential aide Charlie Young (Dulé Hill) to hire a lawyer in case he is accused of complicity in the MS "cover-up."More
Air date: Oct 17, 2001
In the conclusion of The West Wing's "official" third-season opener, political consultants Bruno Gianelli (Ron Silver), Connie Tate (Connie Britton), and Doug Wegland (Evan Handler) cross swords with the presidential staff over the issue of Bartlet's impending re-election campaign. C.J. (Allison Janney) suffers the repercussions of her press-conference "meltdown" and endeavors to keep the press corps from assuming that Bartlet (Martin Sheen) is worried about winning a second term. The situation involving the Haitian dictator comes to a boil -- and a solution. And Leo (John Spencer) is ordered to pull political strings to postpone the FDA's announcement on the controversial drug RU-486. Like the first part of "Manchester," part two is framed in a flashback format, recalling the events leading up to Bartlet's decision to run again despite the controversy surrounding his medical condition.More
Air date: Oct 24, 2001
Sam (Rob Lowe) and Bruno (Ron Silver) set aside their differences in hopes of persuading labor leader Victor Campos (Miguel Sandoval) to throw his support toward President Bartlet's re-election campaign. As Congress battles over the estate-tax issue, the governor of California takes issue with the ecology-driven decision made by Bartlet (Martin Sheen) to let a huge forest fire burn itself out. The staff goes into spin mode to attack Special Prosecutor Rollins (Nicholas Pryor) as he investigates the possibility that Bartlet's cover-up of his medical condition is an impeachable offense. And Donna (Janel Moloney) is set up on a fateful date with a Republican named Clifford Calley (Mark Feuerstein).More
Air date: Oct 31, 2001
The staff tries to prevent President Bartlet's estate-tax veto from being overridden by the GOP. Bartlet (Martin Sheen) himself turns on the old charm with Jack Buckland (Kevin Tighe), a Democratic governor who is thinking of running for president against Jed. Presidential aide Charlie Young (Dulé Hill) is encouraged by one and all to accept an immunity deal when called to testify in the investigation of the MS "cover-up." And C.J. (Allison Janney) crosses swords with obstreperous TV entertainment reporter Sherri Wexler (Mary Mara).More
Air date: Nov 7, 2001
During the investigation of the MS "coverup," Donna (Janel Moloney) is questioned by Republican counsel Clifford Calley (Mark Feuerstein), whom she has been dating -- and to whom she tells deliberate lies. In the wake of a fatal church shooting in Texas, President Bartlet (Martin Sheen) squares off against Vice President Hoynes (Tim Matheson) on the issue of gun control. Leo (John Spencer), likewise, has a confrontation with an old friend, Air Force General Adamley (Gerald McRaney), over details of an international war-crimes tribunal. Foreign correspondent Will Sawyer (Michael O'Keefe) gets wind of an embarrassing statement made by Toby Ziegler (Richard Schiff). And Sam (Rob Lowe) is whimsically sidetracked by an effort to abolish the penny.More
Air date: Nov 14, 2001
President Bartlet (Martin Sheen) finds himself in another rock-and-a-hard-place crisis when an American spy submarine goes silent in North Korean waters. How, he wonders, can the U.S. mount a search and/or rescue mission without alerting the Korean authorities? Complicating matters is the presence of curmudgeonly, advice-dispensing Assistant Secretary of State Albie Duncan (Hal Holbrook). In other developments, Abbey's (Stockard Channing) previous malpractice suits may hurt her husband in the ongoing MS cover-up investigation. Toby (Richard Schiff) butts heads with an Appropriations Committee representative over the issue of funding avant-garde artists. And C.J. (Allison Janney) finally has something to be happy about vis-à-vis the re-election campaign.More
Air date: Nov 21, 2001
On Thanksgiving Eve, C.J. (Allison Janney) tries to find someone to mollify a pair of Native Americans (Gary Farmer, Georgina Lightning) who intend to camp out in the White House lobby until a 15-year-old dispute is settled. Meanwhile, Josh (Bradley Whitford) is forced to broker a political deal with a high-ranking death-penalty advocate in order to expedite a 13-year-old American boy who fled to Italy after killing his teacher. Sam (Rob Lowe) tries to put a positive spin on a new OMB poverty formula that would negatively reclassify millions of Americans. And President Bartlet (Martin Sheen) will not be swayed in his resolve to prepare a proper Thanksgiving dinner for his family.More
Air date: Nov 28, 2001
C.J. (Allison Janney) passionately objects to an arms-sale deal to build an airstrip in the Persian Gulf state of Qumar, where women are subjected to deplorable treatment. President Bartlet (Martin Sheen) tangles with feminist lobbyist Amy Gardner (Mary-Louise Parker, in her first series appearance) over the wording of a treaty addressing the issue of prostitution. Toby (Richard Schiff) tries to mollify a group of veterans who are angry over the Smithsonian's Pearl Harbor exhibition. Sam (Rob Lowe) ponders the possibility of a national seatbelt law. And casting a sinister shadow over all these events is the likelihood of a mad cow disease outbreak.More
Air date: Dec 12, 2001
It is two days before Christmas, and all through the White House, no one is sleeping, not even....Well, to get down to business: Leo (John Spencer) engages the very expensive services of lawyer Jordon Kendall (Joanna Gleason) in preparation for his testimony before the committee investigating Bartlet's (Martin Sheen) failure to disclose his MS. During the hearings, it becomes obvious that Leo is the specific target of a ruthlessly ambitious congressman. Elsewhere, the FBI joins forces with the White House staff to investigate warnings that several black churches will be firebombed on Christmas Eve.More
The West Wing: Season 3 Trailers & Photos
Tv Season Info
Season 3 begins with President Bartlet (Martin Sheen) announcing that he intends to run for re-election. Parallel storylines include Bartlet being accused of committing electoral fraud by concealing his MS, a death threat against C.J. and terrorist attacks against the US.
Cast
News & Interviews for The West Wing: Season 3
Friend Ratings for The West Wing: Season 3
No Friends? Inconceivable! Log in to see what your friends have to say.
Login
There are no critic reviews yet for The West Wing: Season 3. Keep checking Rotten Tomatoes for updates!
Audience Reviews for The West Wing: Season 3
There are no featured audience reviews yet. Click the link below to see what others say about The West Wing: Season 3!
Discussion Forum
Discuss The West Wing on our TV talk forum!
News & Features