Day 1: 2:00 AM-3:00 AM
EPISODE: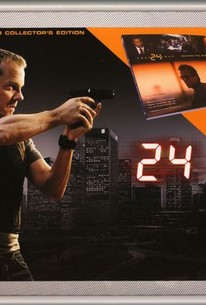 Episode Info
Jack (Kiefer Sutherland) transmits the thumbprint to a lab, but they can't find a match. Teri (Leslie Hope) tells Jack about Kim's (Elisha Cuthbert) phone call, and Jack asks her and Alan (Richard Burgi) to wait for Kim at the furniture store. Mandy (Mia Kirshner) apologizes to Ira (Michael Massee) for Bridgit's (Kim Murphy) demands. Ira calls Rick (Daniel Bess) and Dan (Matthew Carey) for an update on Kim. Palmer (Dennis Haysbert) meets with Carl (Zach Grenier), some kind of PR guy, and tells him there's a story out that the senator's son Keith (Vicellous Reon Shannon), killed the man who raped his daughter. Carl promises to take care of it. Jack tells Jamey (Karina Arroyave) about Walsh's allegations, and has her confirm that the key card came from Nina's (Sarah Clarke) computer, while he keeps Nina occupied by asking about her relationship with Tony (Carlos Bernard). Once the origin of the card is confirmed, Jack accosts Nina, demanding to know who she's working for. Nina pleads her innocence. Kim (Elisha Cuthbert) and Janet (Jacqui Maxwell) manage to temporarily escape from Rick (Daniel Bess) and Dan (Matthew Carey). With the boys hot on their trail, they get unexpected help from Larry (Keram Malicki-Sanchez), a street hustler. They manage to get their hands on a cell phone, and Kim puts in an urgent call to her mother. But as the girls race off, Janet gets hit by a car, and Kim is caught. After Ira transfers another million dollars into their account, Bridgit gives up the ID card, and pays dearly for her greed. Jack learns that the weekend the key card was created on Nina's computer, she was away with him.
Day 1: 2:00 AM-3:00 AM Photos
Discussion Forum
Discuss 24 on our TV talk forum!