Day 1: 4:00 AM-5:00 AM
EPISODE: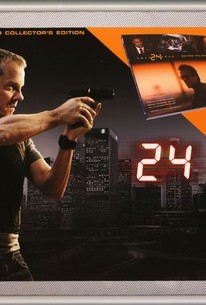 Episode Info
Teri (Leslie Hope) and Alan (Richard Burgi) arrive at the hospital, and learn that Janet (Jacqui Maxwell) is the injured girl. As Janet undergoes emergency surgery, Teri worries about Kimberly's (Elisha Cuthbert) whereabouts. After turning Kimberly over to Gaines (Michael Massee), Rick (Daniel Bess) wants to split, but Dan (Matthew Carey) insists that they meet Gaines at the compound to collect their money, as arranged. Jack (Kiefer Sutherland) follows the police as they take Penticoff (John Hawkes) into custody. Jack convinces the police to let him speak to Penticoff, but Mason (Xander Berkeley) arrives and intercedes. Jack tells Mason that Penticoff is involved in an attempt on Palmer's (Dennis Haysbert) life, but he doesn't mention anything about Kimberly. Penticoff demands to speak to Jack, telling him that Kimberly will die if Jack doesn't help him escape so he can answer Gaines' phone call. Palmer meets with reporter Maureen Kingsley (Devika Parikh) and she tells him her very convincing sources for the story about Palmer's son, Keith (Vicellous Shannon). Palmer later confronts Keith and asks him what he did after Nicole (Megalyn Echikunwoke) was raped. Keith refuses to answer. Jack helps Penticoff escape, and Penticoff gets the call from Gaines, who tells him to dispose of a body located in the trunk of a nearby car. Hearing about the body, Jack fears the worst. Dan and Rick meet with Gaines, who has already learned that, contrary to what Dan told him, Janet is still alive. Gaines decides to show Dan the difference between dead and alive.
Day 1: 4:00 AM-5:00 AM Photos
Discussion Forum
Discuss 24 on our TV talk forum!