Day 2: 11:00 AM-12:00 PM
EPISODE: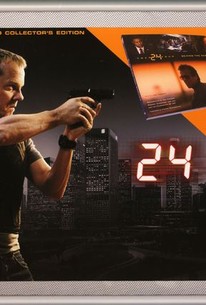 Episode Info
Tony (Carlos Bernard) and Michelle (Reiko Aylesworth) have escaped relatively unscathed from the explosion at CTU, but Paula (Sara Gilbert) is badly injured and trapped under debris, and they need her to decrypt CTU's files on the nuke. Lynne (Michelle Forbes) blames Rayburn (Timothy Carhart) for the deaths caused by the bombing. He warns her to keep quiet about it, and she does. Mason (Xander Berkeley), exposed to radioactive materials, asks a doctor for details about his imminent death. Eddie (Douglas O'Keeffe) calls Joe Wald (Jon Gries) and writes down his address, so Jack (Kiefer Sutherland) takes the address and tries to bust Eddie. There's a shootout, and Jack kills Eddie and his cohorts before racing off to get Wald. He calls CTU and gets details about the explosion from Michelle. He tells her to inform Mason that he's on his way to bust Wald. Tony, thinking Mason is on the run, tells Michelle to give the info directly to NSA instead. Megan (Skye McCole Bartusiak) has some kind of a seizure outside of CTU and is raced to the hospital, where Kim (Elisha Cuthbert) learns that the girl has been physically abused in the past. Kate (Sarah Wynter) reveals her suspicions about Reza (Phillip Rhys) to her father (John Terry), who reassures her that he's already had Reza thoroughly checked out, and he encourages her to go on a drive with Reza. Mason, surprisingly, returns to CTU and refuses to allow Paula to be taken to the ER until after she has decrypted the files. Palmer (Dennis Haysbert) confronts Lynne for withholding the information about CTU. She tells him everything, and Palmer has Rayburn thrown out of their command center. Jack ends up in a showdown with Wald, desperately trying to get him to reveal who hired him to hit CTU.
Day 2: 11:00 AM-12:00 PM Photos
Discussion Forum
Discuss 24 on our TV talk forum!