Day 4: 12:00 PM-1:00 PM
EPISODE: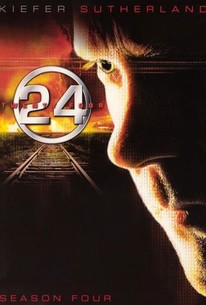 Episode Info
The sixth hour of Day 4 begins with an explosive action sequence, and Jack (Kiefer Sutherland), disobeying Driscoll's (Alberta Watson) orders, stages a one-man invasion of the terrorist compound, in a desperate last-ditch effort to rescue Heller (William Devane) and Audrey (Kim Raver). He manages to get Heller out of the compound, but they are soon pinned down and out of ammunition, and then Omar (Tony Plana) tries to escape, using Audrey as his personal human shield. Tariq (Rene Millan) shows up at the Araz home, ostensibly to help Behrooz (Jonathan Ahdout) dispose of Debbie's body, but after they leave the house, Dina (Shohreh Aghdashloo) realizes that Tariq is going to kill Behrooz, and angrily confronts Navi (Nestor Serrano). "Living here has changed him," Navi explains. "He is no longer our son." Back at CTU, Heller learns that his son, Richard (Logan Marshall-Green), has been subject to "noninvasive" torture while in CTU custody. At first, he's outraged, but when he learns that Richard was actually withholding information that might help the investigation, he tells Curtis (Roger R. Cross) to do whatever's necessary to get Richard to talk. As the hour closes, the CTU team learns what was in that mysterious briefcase, and discovers that the kidnapping of Heller and the Internet broadcast were a cover, laying the groundwork for a far more deadly terrorist plot.
Day 4: 12:00 PM-1:00 PM Photos
Discussion Forum
Discuss 24 on our TV talk forum!