Absolutely Fabulous: Series 2
(1994)
SEASON: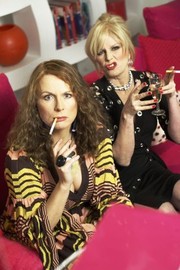 AUDIENCE SCORE
Critic Consensus: No consensus yet.
Episodes
Air date: Jan 27, 1994
After a dalliance with a government official, Patsy (Joanna Lumley) becomes embroiled in a tabloid sex scandal and is irate to see her true age reported nationally. "Borrowing" the Monsoon house for an interview with Hello magazine, she is disappointed to learn that photos for the spread won't be shot until the following week. However, when Edina (Jennifer Saunders) stubs her toe and enters the hospital for minor surgery, Pats takes the opportunity to accompany her and undergo a quick face peel. Finding the accommodations less than deluxe and ridiculed by a pair of wise-cracking nurses (Llewella Gideon and Orla Brady), Edina pops painkillers like candy and falls into a disturbing fugue in which her friends and family appear to her in the guise of British celebrities, from Helena Bonham-Carter to Germaine Greer -- both of whom have been the subject of ridicule on previous episodes. Awakening from her dreams to find that her surgery has already been completed, Eddy learns that her injuries were even more minor than they appeared; Patsy's face peel, however, doesn't generate quite such a happy outcome, nor does her debut in the pages of Hello. Originally broadcast on BBC 1 on January 27, 1994, Absolutely Fabulous: Hospital marked series two, episode one of this popular Brit-com. Suzi Quatro, Mandy Rice-Davies, Richard E. Grant, and Sylvia Anderson joined Bonham-Carter and Greer in the cast of cameo stars.More
Air date: Feb 3, 1994
While Saffy Monsoon (Julia Sawalha) mourns the death of her grandfather, her mother, Edina (Jennifer Saunders), is too busy mourning the failure of her latest weight-loss program: a bizarre scheme in which she is slathered in mud and then mummified for several hours. Gran (June Whitfield) handles her husband's death with typical aplomb, but Eddy goes way over the edge as soon as she has time to ponder her own mortality. Filled with self-centered dread, she goes on an art shopping spree at a snooty gallery and then bristles as the guests at her father's wake mistake an expensive mobile for what it is: a set of coat hangers. Ex-husband Marshall (Christopher Ryan) and his new grief-counselor girlfriend, Sondra (Gwen Humble), try to cheer the family up, but when Sondra realizes there's a corpse in the house she completely freaks out. Eddy and Patsy (Joanna Lumley) freak out, too, getting rip-roaringly drunk as the rest of the funeral party proceeds to the cemetary. Waxing sentimental, Patsy begs Eddy to give her the house when she's gone, and Eddy agrees -- as long as Pats will accompany her to the graveyard. Unfortunately, neither woman is in any shape to navigate the rough boneyard terrain, and Mr. Monsoon's funeral ends much like any other family event: grotesquely. Originally broadcast on BBC 1 on February 3, 1994, Absolutely Fabulous: Death marked series two, episode two of this popular Brit-com. Llewella Gideon reprises her role as the wise-cracking West Indian nurse who originally appeared in the previous episode, Absolutely Fabulous: Hospital.More
Air date: Feb 10, 1994
Eddy (Jennifer Saunders) and Patsy (Joanna Lumley) head to Marrakesh to team up for a photo shoot. It seems Patsy's magazine is going to run a spread featuring Pop-Specs, a trashy little product represented by Eddy's PR firm. When Saffy (Julia Sawalha) tags along, she quickly learns her mum has little on her mind but buying dirt-cheap housewares and hitting the hookah as hard as she can. During a decadent party with Uncle Humphrey (John Wells) -- a dirty-old-man friend of Eddy and Patsy who wants to perform sexual perversions on Saffy -- the girl learns that for a brief time many years ago, Patsy was a little confused about her gender identity. The next day, after a dip in the pool, the ladies go shopping and get separated from Saffy in an outdoor bazaar. Without her guidance, Eddy and Pats end up stranded in the wrong part of town, but as usual, Saffy saves the day. Back at their resort, the women resume their decadence -- even Saffy, who ironically gets the most out of her trip to Morocco. Originally broadcast on BBC 1 on February 10, 1994, Absolutely Fabulous: Morocco marked series two, episode three of this popular Brit-com. The more over-the-top plot threads of episodes such as Absolutely Fabulous: Morocco divided fan opinion about the second series of "AbFab," with some viewers decrying the less naturalistic comedy and others embracing the show's new, more extreme brand of slapstick.More
Air date: Feb 24, 1994
Edina (Jennifer Saunders) gets in an uproar over the impending visit of Max (Patrick Barlow) and Bettina (Miranda Richardson), a pair of impossibly hip old friends. Terrified that her cluttered house won't be up to snuff with these chic minimalists, she chucks things -- and people -- right and left. Pats (Joanna Lumley), feeling abandoned, sets off to find another lunch partner. She even turns up at her own office, hoping to find Magda but instead encountering Bubble (Jane Horrocks), who is there on loan from Eddy's office. Meanwhile, Eddy, dismayed to find that Bettina and Max have become the shrill, neurotic yuppie parents of a very ordinary newborn, escapes to an imaginary lunch date of her own. Pats and Eddy find themselves at the same hip London eatery, where each tries to impress the other with her dining companions; Eddy gloms onto '60s singer Lulu, while Pats forces herself into the company of Swedish actress Britt Ekland and outrageous fashion designer Zandra Rhodes. Back at the Monsoon house, Eddy still can't stand the company of the hysterical Bettina, so she retires to bed. Strangely enough, so does Max. Originally broadcast on BBC 1 on February 24, 1994, Absolutely Fabulous: New Best Friend marked series two, episode four of this popular Brit-com. Although Richardson, star of such films as The Crying Game, played a fictional character, Ekland, Lulu, and Rhodes all portrayed themselves.More
Air date: Mar 3, 1994
Saffron (Julia Sawalha) cautions her mother to economize in gentle preparation for the revelation by Edina's accountant that she's been cut off by both of her ex-husbands; as revealed in series one's Absolutely Fabulous: Birthday, Edina's been double-dipping, and Justin and Marshall aren't having it. Unaware that she's actually got plenty of investments to support herself and refusing to sell either one of her sham businesses -- the joke PR firm or the tax-shelter knick-knack shop -- Edina (Jennifer Saunders) opts instead for reducing her monthly expenses. Deprived of her daily deliveries from tony department store Harrods, she and Patsy (Joanna Lumley) attempt to mount a trip to the grocery store in the "economy" car that's replaced the limo -- a two-seat sports car. The results of this expedition include assault, battery, robbery, pubic drunkenness, traffic violations, a trip to court, and a course of public service. Originally broadcast on BBC 1 on March 3, 1994, Absolutely Fabulous: Poor marked series two, episode five of this popular Brit-com. Christopher Malcolm reprises his role as Eddy's gay ex-husband, Justin, in an appearance that includes a memorable joke about "going through the motions" of marriage.More
Air date: Mar 10, 1994
After Patsy (Joanna Lumley) manages to incinerate the Monsoons' kitchen, she and Edina (Jennifer Saunders) take to hanging out in the living room. The only problem is that Saffy (Julia Sawalha) has a rare, though clandestine, date planned for that very room. As Eddy and her monstrous friend torture Saffy by staying put, Gran (June Whitfield) accidentally locks the three women in the living room on her way to the chemist's, leaving Saffy inconsolable and Pats and Eddy bored. Talk turns to sex as Edina tortures Saffy with questions, resorting to a Cosmopolitan sex quiz to elicit information from the girl. Saffy and Patsy fight bitterly, the gaunt fashion plate jealous of the privileges her young rival has enjoyed. In flashbacks, we see the births of all three characters -- including an over-the-top sequence in which Patsy's pretentious mother compares her daughter to a tumor and gives birth to the accompaniment of bad Beat poetry. Eventually, Gran returns home, freeing the trio from the displeasure of each other's forcible company. Originally broadcast on BBC 1 on March 10, 1994, Absolutely Fabulous: Birth marked series two, episode six of this popular Brit-com. Eleanor Bron, originally seen in Absolutely Fabulous: Magazine during series one, reprises her role as Patsy's mom.More
Tv Season Info
The second season of the uproarious BBC comedy series about two women living high on life, amongst other more potent uplifts. The six episodes see Patsy contemplate a face lift in the run up to a photo shoot. Edina meanwhile deals with the death of her father. The pair also enjoy a raucous trip to Morocco.
| | |
| --- | --- |
| Genre: | Comedy |
| Network: | BBC |
| Premiere Date: | Jan 27, 1994 |
| Producer: | Jon Plowman |
News & Interviews for Absolutely Fabulous: Series 2
Friend Ratings for Absolutely Fabulous: Series 2
No Friends? Inconceivable! Log in to see what your friends have to say.
Login
There are no critic reviews yet for Absolutely Fabulous: Series 2. Keep checking Rotten Tomatoes for updates!
Audience Reviews for Absolutely Fabulous: Series 2
There are no featured audience reviews yet. Click the link below to see what others say about Absolutely Fabulous: Series 2!
Discussion Forum
Discuss Absolutely Fabulous on our TV talk forum!