Alpha House: Season 1
(2013)
SEASON: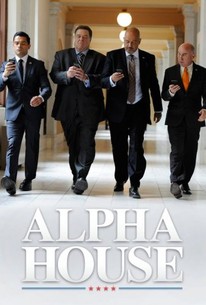 Rate And Review
Episodes
Air date: Apr 19, 2013
A comedy featuring John Goodman. Re-election battles, looming indictments, parties, their Party... these senators need a drink. And a new housemate. (C) Amazon
View Details
Air date: Nov 15, 2013
The senators adjust to their new roommate, and his girlfriend, as preparations for the Congressional Delegation to Afghanistan continue. (C) Amazon
View Details
Air date: Nov 15, 2013
As the re-election battles heat up the four senators travel to Afghanistan as part of a Congressional Delegation. (C) Amazon
View Details
Audience Reviews for Alpha House: Season 1
Ken Jacowitz was in the pilot for this series, so as a person of moral conscience, I must give it 1/2.

Humorous view of DC politics

It isn't West Wing, but it's a lot funnier and more savvy than the critics have given it credit for. If you like political humor, give Alpha House a try.

Way too inconsistent in both plot and comedic effect, the show only rises on the legs of John Goodman's inherent likability.

My husband and I both crack up over this. If you are at all into any sort of politics or interested in human foibles, Washington D.C. or that particular species of human... "Republican" you should watch. If you like John Goodman... ditto. Watch for Bill Murray's cameo in the opening scene of the pilot... hilarious :-)

Nothing ruins the suspension of disbelief like political dialog that was too-obviously written by those who disagree with it. I likely share the writers' politics, but this show would be much funnier if it took some rhetorical cues from it's dramatic Netflix analog, House of Cards.